All right, I started this blog as a record of my knitting adventures as well as to record thoughts on the crazies I work with and the strange men I date and my friends and such.

Completed my 3rd scarf, ready to move to bigger and better things. I made the scarf on the left out of this FABULOUS yarn from Schaefer Yarns. It's so colorful, bumpy and soft! I love it. I made the one on the left and it's too cool. I'm now working on one in colors that resemble camouflage for Joey and one in BRIGHT pinks, purples and such for Beth for this winter.



I've decided I now LOVE knitting in the round. I'm such a knitting virgin, branching out seems almost sinful. I've got the tube knitted on this little party-purse but I'm not doing any fluff or extra stuff. I'm using a Noro Japanese yarn that is gorgeous in muted earthy rainbow colors and going to felt it. I've now got to learn how to do the handles and I'm almost ready for washing. Can't wait.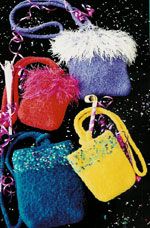 I'll add my own pic's once I get the new digital camera and get the finished product out. OMG I'm now addicted and have all these sweater patterns I can't wait to try. I can decrease, can't figure out the increase thing yet, use my Stitch N Bitch book for pretty good directions, but need HELP! Our new knitting shop has an amazing supply, great stitching room, but NO help. Most of the employees don't teach anything other than plain old knit & pearl stitches. The old shop in town is tiny, crammed with goodies, and has pretty helpful customers that come in to stitch, so I'll probably head over there to see if some nice lady can help a sista out.

This guy's knitting blog cracks me up! It's inspiring to see the finished products all these people can come up with. Makes me hope I'll be doing more than scarves, scarves, scarves...
http://queerjoe.blogspot.com/