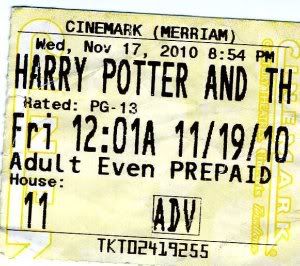 It rocked. There's nothing better than going to a midnight Harry Potter movie with good friends, knitting the night away. What? There were two women "of that age" snorting inappropriately in laughter while waiting for the movie to start? What? FORGETICUS! BIG TIME FORGETICUS! Michief Managed.
--I do know the actual spell is Obliviate, no worries!--
I do love Molly Weasley. Dearly Dearly love her. You know, redheads named Molly rock! I'm priviledged to resemble either Molly Ringwald or Molly Weasley, and actually have more in common with the mother of the clan of redheads where small explosions and off-kilter inventions are a daily way of life.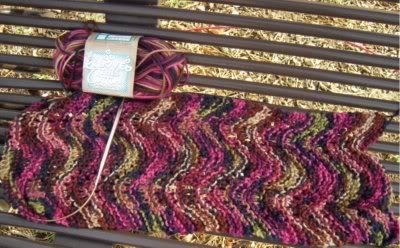 My most favorite yarn deserves to be knit into my most favorite pattern. "I love this cotton!" given to me by my youngest Weasley boy for mother's day. I thought this yarn that was picked out, purchased and hand wrapped by my son deserved to be knit into something to be worn and loved. I was making the mistake of having it sit by my bedside table, being admired. Looked at. Then, on our Weasley Weekend (my two redheaded kiddo's and I watched Harry Potter movies #3-5 all day long on Sunday) I pulled out that yarn and a size 10.5 circular needle and cast on. Joey was so proud of his yarn being knit. I now realize I have the perfect pattern for this perfect yarn!
The way these crazy colors are working into this fluttery lacy scarf, it looks like something that would be right at home around Molly Weasley's neck for sure. It suits her style, and apparently that of my own as well as I am absolutely loving it. I'm using the same stitch count and pattern as I used to make all FIVE of my sockyarn feather & fan scarves (I knit two of the red ones shown below), but with a larger needle. Want to make one with me?
Pick up a skein of sockyarn and size 8 needles or a couple skeins of worsted weight yarn (I'm guessing about 300 yards) and a size 10.5 needles.
Cast on 36 stitches LOOSLEY (use a larger needle if necessary)
Knit 6 rows or 3 ridges in garter stitch (knit every row for 6 rows)
Row 1: K2tog 3 times, [YO, K1] 6 times, K2tog 6 times, [YO, K1] 6 times, K2 tog 3 times.
Row2-4: Knit across
Repeat rows 1-4 until you're close to the end of your yarn. End with 6 rows of knitting (3 garter stitch ridges) after the last Row 1 of the pattern.
Bind off LOOSELY.
Block lightly and WEAR in a true Molly Weasley style, with many colors mixing together, and ends fluttering about. Hug your children and their friends, cook a lot of food, whoop up on death eaters that threaten your family.
The original pattern I used to make my first feather & fan scarf is the
Old Shale Scarf
from
Tiennie
, who I just adore. She said a while back to go ahead and print my version of the pattern. I just changed stitch count and not much else, but I've had lots of requests for the numbers I use, so knock yourself out. I'm just trying to make it through the day without falling asleep and then plan to finish my Molly Weasley Scarf over the weekend!