"Never keep up with the Jonses. Drag them down to your level."
--Quentin Crisp (1908-1999)

Beth's first day of 2nd grade was today. She went for the 1/2 day and is spending the afternoon resting with Grandma in her 6th grade classroom (they had early dismissal as well). She did great, but looked so tired!

Well, one good thing came out of the "weekend of the head injury." I was smart enough to grab a blanket & stuffed animal for Beth (it was FREAKING cold in the sad little er room we were stuck in), a water bottle & my KNITTING. Almost forgot it, as I was running out the door, grabbed a few things and must have instinctively grabbed the bag. SO, spending 5 1/2 hours in a smelly little er room with no tv NEXT to the bathroom where you got to listen to people throw up and one old guy that pooped on the floor and laughed about it, was MUCH more pleasant with Jildo's scarf along. I added about 6 inches to the thing and now can't find the book to see how long it's supposed to be. I'm making the keyhole scarf in the Stitch N Bitch book, but with different funky yarn. Pic's are below in a previous post. I think I only have about 2 or 3 more inches to go and I'm DONE!

I'm moving on up to the next level of stitchery, don't have a CLUE what I'm doing, but I'm gonna start and every time I get stuck, go in to the little knit shop in Olathe and find a nice old lady to show me what to do next. Their customers just hang out in the back corner stitching away the day. That's how I learned to stitch in the round. The cool, trendy, BIG knitting shop in Overland Park is gorgeous, but there's no one there to HELP. They can all help you make a scarf, but I'm in scarf limbo. Gotta get out....Here's my next project. I figure the not-eating-at-night-cause-I'm-knitting diet thing will allow me to look all hot in this one: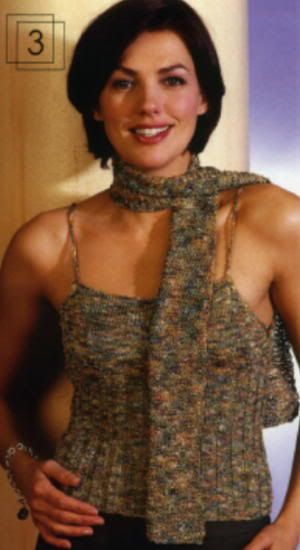 I'm motivating myself to get Jildo's scarf DONE before I go get yarn for the new project.