"Moral victories don't count."
--Savielly Grigorievitch Tartakower

I can't decide what I want to do for my first tank top. I'm impatient. No, really. I want to make the sexy, shaped, classy tank I scanned earlier from the magazine, but there's a lot of shaping and expensive yarn and all that. I am trying to convince myself to do the smart thing and start with a simple tank that knits quickly and easily to learn on, but I want the good stuff NOW. Oh well, maybe I'll start with this one from The Yarn Girls' Guide to Simple Knits book:



I also am going to make a bunch of these quick angora one-skein button-hole scarves for the more conservative ladies in the family for Xmas presents: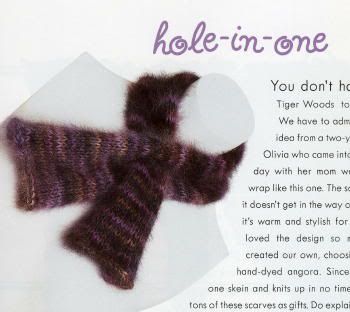 OK, I'll do the conservative, easier tank now and then do the sexy thing later. I've GOT to have this one to go out in before my group gets together for its Xmas party/Westport/Downtown pub crawl: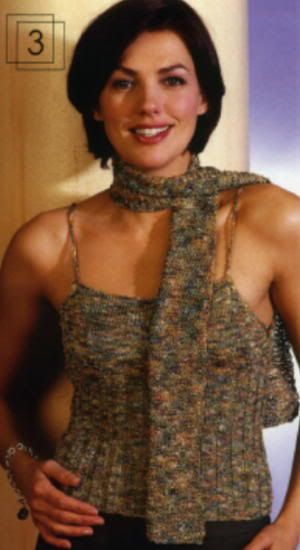 Nope, I'm not one of those knitters who only knits for others or for charity or some such nonsense. I want it ALL. I enjoy making funky scarves for friends and my kids, but man, there are TOO many cute things out there that I want for me me me. Selfish, maybe. That's me.