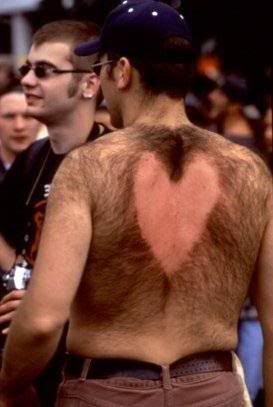 It's actually quiet on the stalker-front. Normally I get some strange crap or flowers or bears from a stalker or two...I have to say though I'm glad I think Kenny Rogers & my old 2nd worst date guy (LV) must have finally gotten the hint. (Although, it was a bit fun to get stuff--hey, I never said I wasn't shallow!) Last year was a big-ass bunch of flowers, roses, sunflowers, branches, like half a tree of stuff in a gorgeous big vase from Toblers from Kenny and just a card from LV. The year before it was black dead roses from the ex hubby of the mini-marriage (I thought that one was pretty funny and gave the guy credit as he never sent me LIVE flowers in our short time together), and a black & red butt-flosser version of a thong with beads spelling "CHRISTINE" up the string in the back from LV. Though I do wear thongs occasionally, I am not a fan of the butt-flosser string version. And, if I were, I don't think I'd be putting a string of beads up the crack of my butt because it just doesn't sound pleasant. I'm sure some people enjoy beads up the butt, but it looks bumpy and what if you got pinched? ick. I am like a serial killer, saving trophies of my victims, except I'm saving trophies of the WORST DATES EVER.
Ah well, I got a hug & kiss from each of my kids and a card with $20 from mom & dad. That was sweet! Joey woke me up and said, "Mom, do you know who I'm giving my very first Valentine to today?" I said, "who?" and he said "You!" and gave me a big hug & kiss. My daughter is much like her mother in many ways. Besides looking like a mini-me, she is NOT a morning person. She stumbled into my room, fell on top of me and said "hhmmmmppyyy vvvnnnnnntinnnnns dnnnnn" which I took to mean good wishes for the day. I mumbled back, and we hugged, then drug ourselves out of the bed to stumble to the kitchen after the bouncing hyper MORNING PERSON little boy.
Hope your day is special and you all get lots of goodies! I think I'm going to treat myself to a SMALL purchase of yarn from the LYS, we'll see....