Here's the start (no, actually my FIFTH start) on the scarf previously known as "My so-called scarf". It has been renamed to the "Pain in the ASS scarf" or PIAS. I am enjoying the unusual stitches, but this isn't something I can knit while sleepy or watching interesting tv....and it's a BITCH to frog stitch by stitch when you screw up, so I have gotten fed up and frogged the WHOLE DAMN THING four times now. All in all, it's kind of cool.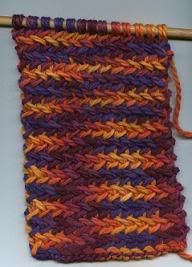 Here's a link to a matching hat pattern. I'm not sure if I'm brave enough for this one or not, thanks to
Vicki
for the name, I googled and found the free pattern for
Cross Hat-ch!
Went to Children's Mercy for the CF clinic checkup first, where Joey did pretty well. We had a little scare when the oxygen level was only recording 95 (out of 100) and they went through 3 fingers before they finally got one that was back at 99, so that was all good. I'm not sure of what levels they are not comfortable with, but I know they stress whenever he's been below 96. He did well on his PFT's too (pulmonary function tests) and the only not great part was he has a bit of a "wheeze" in his lower left lung. It doesn't sound too bad, there's no "crackle" which is what the dr's hear through a stethoscope when CF kids have a lot of infection or damaged areas of the lungs. So, we have to up the Vest treatments (shaking machine) and he should be good as new soon. We survived the blood work & xrays much better than I'd hoped. It was an ordeal to say the least the last time the boy was exposed to a needle. NOT GOOD. You'd think my children wouldn't be dramatic in the least, wouldn't you?? Oh holy crap. This damn mother at the preschool when I picked up Joey for his pediatrician visit to get his flu shot while trying NOT to say the SH word in Joey's presence, said, "OH, are you taking Joey for his flu SHOT? I just took my son for his SHOT, don't you think SHOTS are ....." and on and on saying the SH word at least 5 times. My child cried hysterically for over an hour and a half until the damn thing poked him and he said, "hey, that wasn't so bad." ANYWAY, he was very brave today because he was wearing TWO spiderman shirts (which apparently gives the wearer a bit of superhero strength as well) and so we only lightly sobbed and worried for the 15 min's we waited in "the bad room." The bad room is the outpatient lab. Nothing good ever happens in there, so when we open the door now, the tears start flowing. We got a prety good tech, and it was over quickly. ENT checkup went well also, I LOVE LOVE LOVE Dr. Nicklaus!!!! If anyone's kids in the kc area get sinus or nose or throat stuff, this is the chick to see. We're back on the antibiotics for another week and she said to just email her when I think he needs to go back and she'll call it in unless I think she needs to see Joey. I am so thankful for her! She makes sure my little guy doesn't get too sick.
Open House was a trip! I've finally figured out the trick. If we have to go to the elementary school with NO parking for a school event, we pack the gameboys, head early and sit in the parking lot for 20 min's before the event. Otherwise, we're walking down the dark roads for a couple of blocks at the least. We pulled up just in time to nail the LAST available spot, which happened to be right in front of the door, SCORE! My favorite part of the night was my daughter's paper on "If I were President". After installing a swimming pool for her family's use, she would give a horse to everyone that wanted one, money for food for people that were hungry and build houses for people who needed them, and give money to the animal shelters to take care of all the animals. Anyone else sensing a democrat in the making here? They had a survey/chart thing on "Who's your favorite President?" and there were an obscene amount of GW Bush's listed (we are in the heart of conservative johnson county here, but still it makes me shudder to see it reflected in the ideals of little people...), two George Washingtons, and one Bill Clinton. That's my girl.