OK, I just read the review through the knitters review on this one and I'm BUYING IT!!!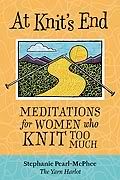 , Meditations for Women who Knit Too Much, by
the Yarn Harlot
, aka Stephanie Pearl-McPhee, full of fun quotes and funny stories about yarn enhancement, her trials and triumphs and just looks like a BLAST! I can't wait to get mine!
OK, enough of a plug, but I think it's very cool that she was "discovered" because of her blog. It got her articles in various knitting mags and now a little book. YOU GO BLOGGING GIRL! Too freaking cool.