Well, we're finally getting organized and ready to go! Saturday, May 21st our TEAM JOEY is walking in the Great Strides for Cystic Fibrosis 2005 event at Shawnee Mission Park shelter #8. If you'd like to join the team, come on out! We'd love to see you!

My son, Joey, has cystic fibrosis, a genetic disease that affects his lungs, sinuses, digestion and other fun stuff. We've seen the benefits of medical research as two of the medicines Joey takes daily have only been on the market for the last couple of years. The medical research has pushed the median survival age from 12-15 years to mid-thirty's. They seem on the brink of so many things, I really try to raise as much $$ as I can to help my son and the 30,000 other children and young adults fighting this on a daily basis.

PLEASE do not feel obligated, but if you'd like to join TEAM JOEY as a virtual walker, feel free to click the pic below and learn more or donate. Even $1 helps. We LOVE our virtual walkers!! So far we've had a few donations from virtual walkers online and also a couple have sent checks to the CFF Heart of America Chapter with "Team Joey" in the notes section. The link is secure, and any spare change or couple of dollars would be SO much appreciated! Two of the local yarn stores are selling $1 donation cards for our team, LOVE THOSE KNITTERS! Again, please don't feel obligated! To learn more or to donate, click my kid below:


Here's the officials of the team, Spokesman Joey, Details Diva Mom (aka Knitting Virgin), President and big sister Elizabeth at the Great Strides CF Walk 2004: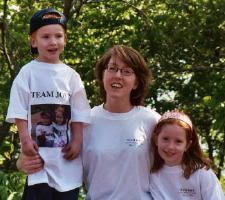 I will return to my normal abnormal rantings and ravings tomorrow.....