LOOK what came in the mail yesterday right before I left for the knitting meetup???? Click the pics for larger images to oooooh and aaahhhh properly!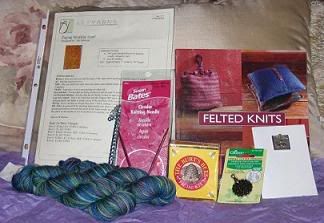 Can you believe the haul???? OH I was so excited, it was even wrapped in a pretty purple bag with tissue paper and I should have taken a pic then, but we all know I have the patience of a fruit fly, so it was ripped while I was in the car driving to the knitting meetup. I tried to wait, I really did, but I only made it to the plaza before it was out in my lap! WOOO HOO baby, thank you secret pal!!!
Here's the goods.....the best felting book EVER, I already have about 6 projects picked out to make, burts bees facial kit (man this stuff smells GOOD), a thread cutter pendant which is VERY COOL, this unusual silver pen that has cool jangly charms on the end so I may jangle as I write....a card that has a freaking necklace pendant in it, HOW cool is that? AND AND AND a very unusual scarf pattern for a zigzag modular scarf COMPLETE with the cool handpainted supermerino yarn AND the needles to create it!!! SEE, she ROCKS! Thank you again, I'm a tiny bit intimidated by the scarf pattern, but I can see it's going to possess me much like my so-called scarf did! I'm running by the lys so I can get the yarn wound up and I'll be rocking right along!!!
I just finished my gift to send out, hope my receiver likes her stuff! HOW did I live before secret pals????
I finally made it to a knit night and ate my stomach so full I almost barfed on the way home. Cripes. I have a severe addiction to Chipotle steak burrito bowls. I am unable to stop before the entire thing is in my belly. Then to cancel the spicy flavors out a bit you HAVE to have chocolate afterwards...see where this is going? ANYWAY, yeah for Huyen, new momma of the cutest little girl born only 5 weeks ago! Huyen came out and Camille patiently taught another of my friends to knit. I am just not a knitting teacher. I need to learn to teach, but it terrifies me. weird, I know, but it does.
Wanna see what I did last night and this afternoon? SSSShhhhhh it's not knitting.....I found a pattern in the LYS while shopping for my pal (I KNOW I'm not supposed to get myself stuff, but how long have you known me?) Of course I had to find some goodies. I picked up four skeins of the COOLEST cotton stuff Manos Cotton Stria, in colors that can only be described as yummy. LOOK what I'm making, my long-ago crochet skills came back with ease after the first flower was ripped out and restarted. Again, click pics for larger images: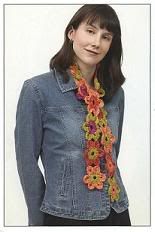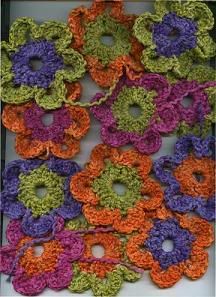 Do you think a 36 year old woman can pull this off? Can I wear it in public? Do I really care? YES I am wearing it. I'm also going to make more for the sale as I think the teeny-boppers will love this. My daughter is already wanting one. This yarn is so soft it's amazing. I would love a sweater made of the lime green. too cool.
I'm off to reread my felting book and have a citrus facial scrub followed by a marshmallow vanishing creme treatment. Sounds so good! I'm going to like this burts bees thing. I've been addicted to their lip balm for years now!
THANK YOU THANK YOU THANK YOU secret pal!!!!!!! I love the colors of the supermerino!!!! SO COOL, thanks for picking just the right book too, you did your homework on me well!