WOW, It sounds like a few of you are interested in this pattern. Man, they should be sending me a commission check or something! I got it at my LYS for $15.50, it just came in last week. I have googled and seen it for $13-18 plus shipping. Check your LYS or favorite online retailer. I've not bought many books online other than half.com or amazon, so if you get a good deal somewhere, let me know and I'll post it here too.





Design Source Cotton Collection 2 for Manos Cotton Stria yarn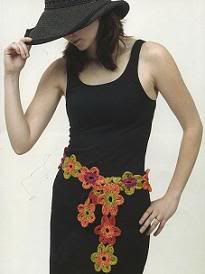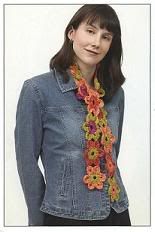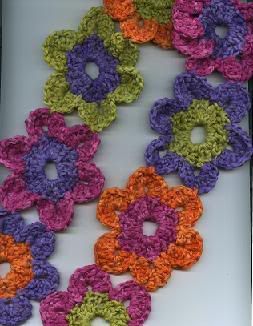 This is the first 8 sewn together, I really HATE finishing, but this is pretty easy to do. In the last 3 days, I've cranked out four sets of these colorful flowers, and I am going to take a break and actually KNIT something from the Felted Knits book I got from my Secret Pal and maybe start the multidirectional scarf I got as well, and then I'm going to do some flower scarves/belts in hot pink & black. I think they'd look cute.
OK, back to ranting.......
So, I go on a brownie field trip after school. I actually volunteered for one in APRIL that's for a musical show where the girls sit quietly in their seats, not this one, but I thought, what the heck, I'm a tough momma. We head down to the Discovery Center, this VERY COOL center with the Missouri Conservation District to do leaf prints. The instructions said to dress in old clothes as it would be messy for girls and for moms. First of all, the place is at 47th and Troost. For those of you non-KC-area readers, it's the edge of a not-very-nice area of town. We had a blast, made an absolute mess, and had a great time. The kids also made these SO COOL prints, I'm going to mat & frame them and I LOVE THEM, check it out below...
OK, the funny part, besides listening to the two snottier mommas talk about the best way to get there spending as much time possible in the Plaza on the trip and as little time on the actual Troost road, (the rest of us just drove there normally and no one was carjacked or mugged, we locked doors, rolled up windows and the like). NO, only in southern Johnson County do TWO of the moms wear their new fur coats. It did snow here last week, but it was 50 degrees outdoors this afternoon. I was cracking up. One lady at least took hers off and helped with the craft. The other one with some black & white fur jacket kept it on admidst all the paint, the mess and what-not even though it was SMOKING hot in the room. I thought to myself, man, if you have to work that hard to find a place to wear your new fur, you have GOT to get out more often. Even I could swing a dinner out or something better than a brownie paint adventure on Troost, but what the heck. Somehow the song..."Cruella DeVille....Cruella DeVille...." kept going through my head.
My children's masterpieces...They look kind of crappy here, but in person are cool, textured, watercolor-ish things that are amazingly different.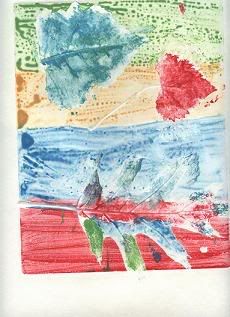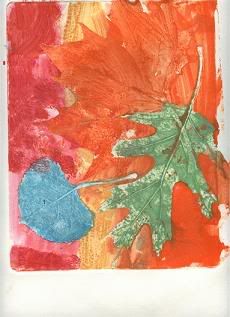 I really wanted to make one too, as they end up printing out on this big hand cranked old fashioned printing press, and it's on watercolor paper and looks like a real piece of art when done, but since the other moms were behaving themselves, I restrained myself. But I think I'm taking the kids back sometime so I can play too.