OK, I gotta admit it, I love these dang retro pics!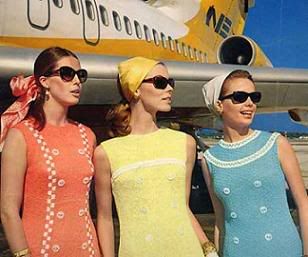 Don't they look good? Hopefully they're not waiting for 3 three guys: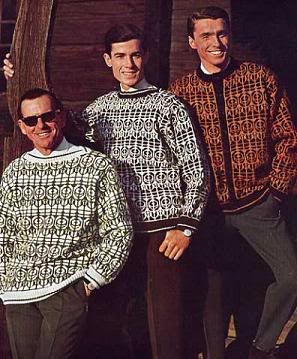 and the knitting smut for the day: (This one looks like a bad day in the wardrobe-room for the porn shoot)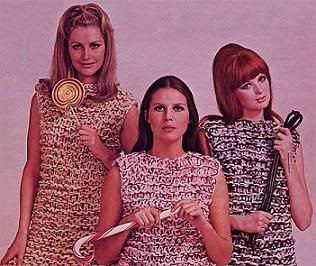 OK, life updates..

My son Joey's been off all antibiotics for a week and a half and isn't feeling too whoopy. (Joey's got Cystic Fibrosis--a lung & digestion disease with chronic sinus problems too.) After he's been not eating well, coughing till he barfs up gross stuff and basically looking like a sick little kid instead of the normal hyper-active obnoxious 4 1/2 year old boy he should be and no one seemed particularly worried. "Bring him back if you get concerned" was what the ER at Children's Mercy told me last Friday night. Call me crazy, but I was a bit freaking "concerned" which is why we were THERE IN THE FIRST PLACE.

Good thing for knitting. I grabbed my aunt's scarf and got about another 8" done. It's almost ready to wrap up for xmas. It also kept me from hitting a young dr in training that was explaining how my son really might not be sick...it could all be in my mind since I wasn't a trained medical doctor like her (and she looked like a damn barbie all cute & skinny too!)...of course, I did think of using one of the sz 9 needles as a weapon, but figured, hey they were my only pair of rosewood needles and I liked them so all in all they kept me out of trouble. Apparently once I got the CF team to admit the basic policy now seemed to be wait until the kid is so sick he can't function and THEN we might do something, that wasn't really in his best interest, and we're going in tomorrow morning for a workup on blood, xrays, PFT's (pulmunary function tests) and other fun stuff.

I really have the utmost respect for the medical establishment and am very lucky to have Children's Mercy here in KC, but lately it's gone from "here's our healthiest little CF kid, let's do everything in our power to keep him that way" to "go away until he's sicker and then we'll talk". Momma's a little too tough to get pushed off so easily...

On the upside, since I was home this weekend and not out catting about, I got some serious knitting done. I finished the back of my tank I started a LONG time ago from the Yarn Girls' Guide to Knitting, and was so proud of this pretty little thing I walked around the house with it hanging on my shirt to see what it looks like. Yup, I'm a dork. I'm bringing Angie's scarf along tomorrow for all the waiting around and hope to get it DONE, ready to do my fun knitalong tank with Nyxxie!