OH MY GOD BECKY......LOOK AT THE SIZE OF HER STASH!!!!!! I like big yarn and I cannot lie....you other mothers can't deny...... little in the middle but she got much stash......little in the middle but she got much stash.....baby got yarn.....

Ok, so I'm no Sir Mix Alot, but I got some serious stuff in the mail yesterday! Check it out....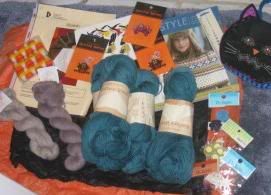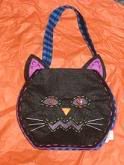 Did I lie? OH OH OH I was psyched! I've got a seriously lovely secret pal THANK YOU THANK YOU THANK YOU!!! Cute and funny card with witches (what bitches don't love witches?)...everything wrapped in orange and black...FOUR big ol' skeins of Araucania Nature Wool from Chile in this gorgeous shades of teal with subtle shading from light to dark....it is destined to become a wrap or maybe a shrug or sweater or something cool....a BOOK (I really am addicted to knitting books) wrap Style, TWO, count 'em TWO skeins of Knit Picks Alpaca Cloud (100% baby alpaca) in Sand and Iris (gorgeous and SO SO SO SO soft!) AND a pattern to make THREE beautiful lace scarves called Elizabeth I. I've already got the sand on size 5's starting out...I'm getting gutsy in my almost middle age, going for LACE...this is the first try... cross your fingers for me. What else, OH yeah the cutest purse EVER, see? It was crammed with Do Jiggies (cool little dohickeys you can use on cards or just stick on stuff) I got leaves, stars, flowers and WITCHES!, three sets of glittery body tatoos (2 claimed by the kids, I'm wearing the other one on Halloween!) as well as a sturdy needle sizer/gauge ruler. ALSO these cute little floating candles that look like candy corns! I'm going to use them Sat. night!
See, does she rock or what? I was having a crappy day yesterday, and it just brightened me all up. I totally took the pictures last night at 11pm in the bathroom as that's the only room I could get enough light to take the pic. I wasn't going to wait as I had to have that baby alpaca on needles immediately.
Weekend should be interesting. Jildo's coming to town Sat. night! woo hoo! My party will be pretty damn small as everyone's camping, lake-ing or breaking up (not pretty that one). I should have a nice small group and we can hang and talk and eat and DRINK! I really REALLY need a few beers this weekend and a nice relaxed few days.
Tonight I have no children and no dog. Jeff & I aren't sure what to do (well, we know WHAT to do we just don't know what to do BEFORE we do what we do...) you know, movie? dinner? head out to a bar? shopping? (ok that was my suggestion). Should be quite peaceful! Kids are both at sleepovers and dog's going to the kennel for the weekend.