KV note: The lovely yarn has found a home! Thanks!

Hello, my name is Susie Sockotta. My twin sister is Sally Sockotta. We're color #19 and both from the same dye lot #909. I'm the one with the cuff and leg knitted and my sister's the one with the loosly wrapped remains of our owner's original sockie that never quite made it off the needles. We knit up with fun little swirly designs with red, purple, green and yellowish orange muted colors. We can be knit on 1's-3's, but our owner hit gauge of 7 stitches to the inch on size 2 needles. Click on the picture to see us in bigger detail. My twin sister (the one with the frogged yarn still attached) has only had less than a yard snipped from the end when our owner was learning and relearning the figure 8 cast-on. I've only had about 6 inches snipped from the end of me, so together we're about 417 yards of machine washable sock yarn. Specs: 45% cotton, 40% superwash wool and 15% nylon.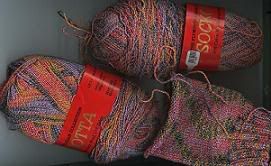 If anyone out there would like this yarn, please send an email to treasuregoddessATkcDOTrrDOTcom or leave a comment. I just don't like knitting with cotton yarn on little needles. My current tank top of 100% cotton may just kill me. I can only handle knitting a few rows before I run back to wool.
This is very nice sock yarn and I think I would love to WEAR sockotta socks, I just can't seem to KNIT them. If you don't like frogged and wavy yarn, feel free to snip off the used parts and knit away with what's left. I am soon moving to a new home (can I get a woo hoo?) and need to pare down the stashola. So, it's FREE, it's nice, barely used, and from a non-smoking home. Let me know.
On the home front, we got a call from the crazy people who were selling the house we looked at on Vday. The people called and said they had decided to sell their house and though they supposedly had higher offers, they wanted US to be the "good Christian family" to buy their house. This was on WEDNESDAY AFTERNOON, after taking 14 days to decide whether or not they were going to sell their house. Jeff said, "let me talk with Christine and my banker and I'll get back to you in a couple of days." On FRIDAY afternoon I went by the house to get a feel of it and to see if I could go look inside again on the weekend to make sure, and the FSBO sign (for sale by owner) was gone and a realtor's sign was up. I called and said, "um, this is Christine and we wanted to let you know we would like the house..." and she said "Oh, well we hadn't heard from you guys....blah blah blah...and we're so sorry...blah blah blah" and they'd signed a month contract and are now asking 20 grand MORE than they agreed to sell it to us for, making it the most expensive house in the entire subdivision. nice. There's a much longer story of goofy stuff that makes us think the place probably has bad kharma anyway, so we're sticking with Jeff's house. I'll just say that the owners BOTH drove white vans with no windows on them. Yup, the white van thing.