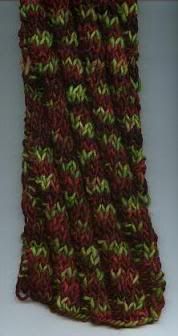 I am SUCH a fan of malabrigo yarn, it's almost scary. I can't help but pet this yarn. I just couldn't stand the wait for the veritable plethora of malabrigo to come in from my ebay orders from the long night of too much spending. I broke out the funky colored malabrigo in my stash that I bought because it was the last 2 skeins of the stuff at the studio last fall. The colors are strange, but I love the look against denim, which is a great part of my wardrobe. SO, I finally decide on what textural pattern to use to showcase this beauty and am knitting right along.
I'm using an adaptation to the traveling rib. I'm listening to country music. Then, it HITS me... the name for this scarf. (I can't knit something without it having a name.) It's the ON THE ROAD AGAIN SCARF (get it? traveling rib? Willie Nelson songs? the PERFECT knit to take on a road trip?) LOVE it! I sat there all proud of myself knitting away.
THEN the kids told me Miles (our shitzu with ISSUES) barfed. on the wood floor. after eating crayons. The brownish pile of foamy icky stuff with chunks of color resembled the
On The Road Again Scarf
a bit too much. I couldn't get it out of my head. I'm now knitting the
Dog Barf Scarf
. If you listen very carefully, you can hear Willie singing "and I can't wait to knit the dog barf scarf again...." twang twang.
I've got to write up the details of the stitch as an actual pattern because this is my favorite textured scarf since the
my so-called scarf
came around. I need to make it and see if I can get it out of one skein or 2.