Yeah! Yeah! Me neither. This is the stash of the lovely Miss Amanda, who came over to sit & knit last night! I have to say, it IS a very big bag. I'm so proud of her getting a stash I could just cry. *sob* they grow up so fast *sob*
Miss Amanda is modeling one of her scarves she just completed using LB Thick & Quick Chenille in black and the not-so-Fun fur in fuschia. BEAUTIFUL!!! The needle she is holding is sporting a few rows of 2X2 Ribs that she just learned. Yes, she's a purl girl now! WOO HOO lady, now nothing can stop you! She knits AND she purls AND she's got flippy hair! WOO HOO!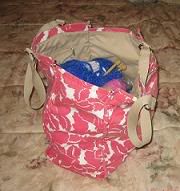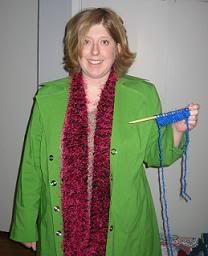 The best part was when I had to get out some extra yarn & needles as I can't teach anything without actually knitting it myself to see just what the heck I'm actually doing...I opened the cedar chest at the foot of my bed and pulled out a skein from the crammed chest. Amanda said, "oh, is that your stash?" No, that's my UPSTAIRS stash. The downstairs stash is, well, downstairs, crammed into a big ol' cedar dresser with absolutely no room left. I've even got yarn crammed into those tiny thin drawers at the top that are supposed to be for your socks. I've got sock yarn in those, so I'm good. Oh, and the crap yarn (which I do love my crap yarn, no offense intended) is in two big ol' plastic tubs under the pool table.
AND Amanda told about her adventures in the Studio wandering around admiring the yarn. She said, "Christine, there's this cool yarn that stripes itself, I think it's called Nore-something..." I almost screamed, "NORO! YES! NORO!" All by herself, in that store that overwhelms fiberlovers with the amazing array of yarns, she finds my very favorite and bestest ever yarn for felting, the sweet noro. This girl is destined to have a life-long addiction to knitting now. YOU GO GIRL!
OOOOps, sorry, yesterday I linked to the blog, but not the pattern of the shrug I must make. Here's the pattern for the lovely victorianesque shrug called
Mia Shrug
officially. Sorry about that! Now that I'm a sock knitter, I'm getting all cocky and think there's nothing I can't make. It's all just yarn and sticks and knits and purls, right? RIGHT? We'll see.