Will and Raegan are married, we had a BLAST, perfect wedding, perfect weekend, good friends, good family, GREAT TIME!!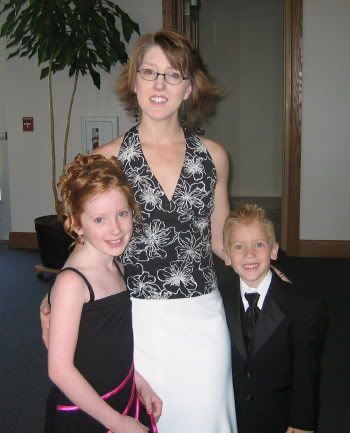 Do we clean up good or WHAT???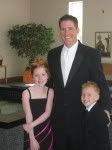 Uncle Will and my kids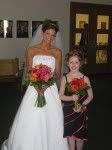 Aunt Raegan and my daughter Beth. FYI--Raegan's dress was a size ZERO and had to be taken in. Doesn't that make you wanna barf??? How is someone that beautiful this nice, kind, thoughtful and just cute as heck? I still wanna barf. size zero. pisses me off. The smallest wedding dress I got into was a size 6 and that was LONG LONG ago in a galaxy FAR FAR away.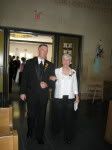 My mom escorted down the aisle by my brother (do I have the cutest brothers or WHAT? FUNNIEST part of the day, I go to drop off Beth for her hair appointment and pick up my mom from her hair-do appt at the local day spa/salon in Salina, KS. My mother is a pretty mellow chic appearance-wise. The lady doing her hair was a bit flamboyant. She really wanted to give mom a fancy do. Mom just wanted a bit of a pouf to her short hair. I guess she talked her into "moderate lift" instead of going all out. I walked in, saw mom with hair to the ceiling...I swear I don't know how she had such big hair when she doesn't even HAVE that much hair. Once I got her in the car, I laughed until I almost cried. It was a great look, just not on my mom. I had flashbacks to Steel Magnolias where Dolly Partin gave the big bee-hive doo's. A little brushing and a lot of hairspray later, here was the moderately lifted hair doo of the mother of the groom. Looking lovely I think!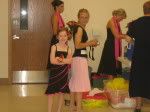 Beth hanging out backstage with the other bridesmaids.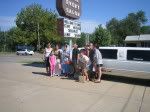 After their hairdo's and makeup treatments, she got to ride in the limo with the girls over to the church. It was the coolest thing for the new Aunt Raegan to include Beth with all her college friends.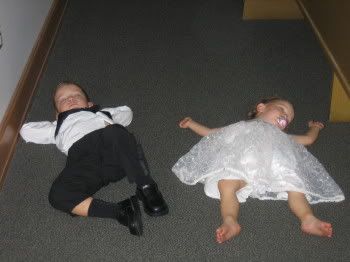 The flower girl and ring bearer take a break after the wedding. These kids are Raegan's niece and nephew and were a RIOT. The ring bearer did his thing once his mom (matron of honor) grabbed his hand and took him down the aisle. The flower girl (2 1/2 yrs old) was trying to run up the aisle the whole time the other groomsmen and bridesmaids were walking. When she finally got to go, she dumped the rose petals on the ground and would NOT go until every last one was picked up and put back in her basket. Then she was so excited she went running down the aisle and bumped into a few pews like a pinball going bump, across to the other side, bump and all at a dead run. TOO CUTE!!