OK, I guess I woke up on the obnoxious side of the bed today, as I'm just having a ball in this strange little land that is our workplace. Boss impressions are bad bad bad. Don't do them if you still want a job. Gotta remember that.

I think we need to have a reality show here. OMG we've got the villans, the crazies, the personality clashes, the tiny bits of hope being stomped to pieces, we've got it ALL baby. I already feel like I'm on survivor...no civilization, normal rules no longer apply, it's every woman for herself....we've got all the "alliances" the network show has, but the people voted out from here don't get to go on the Good Morning America show, they get to go to the unemployment office...

I don't know, it's such a silly day. There's no reason, but I can't stop cracking up. It's like I'm 13 yrs old at a slumber party at 4am and someone could say "dog" and I'd laugh until I snorted. Maybe the almighty Panera-bread-bakers put a little extra some-some in my french baguettes today. I know they have to know me as that obnoxious woman who ALWAYS asks for the extra bread (hey, it's free, it's good, and I'm a piggie).

A, I feel for you sista, hang in there with all the funk...maybe this will help on your fun adventure this afternoon...Seriously, you are an amazing woman and I'm glad you've become a part of my life.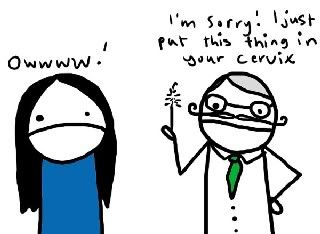 OK, my boss just came in and I think he called me a mushroom and laughed. I have a light burnt out above the desk (God forbid we spend money on an electrician--so we'll be "customizing" the wiring down here--how have we not burnt to a crisp yet?), so I'm going for a lounge effect with my sinatra & harry connick music and trying to not notice the 45 files of PAPER PAPER PAPER on my desk....if I stacked them up high enough, maybe no one would notice if I were still here?

I just stole 2 pens from the girl's desk who was so unceremoniously booted out of here last Friday. How much of a vulture does that make me? What is the appropriate mourning period before you can start scavenging for better office products from those voted off the island (ok dungeon)?