You know, JCCC is really a heck of a deal. I'm taking another fun class (Trig) there and the three hours is only costing me $189. My freaking teacher certification program at Avila (starting next month) is costing me $389 an hour. cripes. I wish there were more classes I could take at Jucco. crap almighty. Good thing I'm going into a high paying career like education, huh? I may have to go work in the hood for a few years to get them to pay off my school loans.

ANYWAY, I did no learning yesterday. I am gonna try to test the book author's stuff and see if I can fix knits & purls down a few rows so simply as they say. We'll see. I've got a blanket I started with a pretty blocks of knitted and purled chenille yarn and have a few stitches wrong in the first couple of rows. I'm thinking it should work. I haven't dropped stitches in a long time, I'm getting all misty and think I need to make another clapotis! I do love my clappy.

I finally got some of the "stripes" started on my first sleeve of the tubey sweater. I think it should be interesting to see how it pools on the body part of the sweater. I'm hoping it turns out cool, I love working with variegated striping and pooling yarn, you never know what you're gonna get. Here's the first sleeve's detailing... Then there's a picture of Jeff's "manly" wrist warmers or as he calls them "fingerless gloves". I thought they turned out pretty damn nice. BUT he now thinks he wants fingers on his fingerless gloves. Only problem is that I'm using artyarns with size 6 needles and all the patterns I've seen call for sock yarn so I'm thinking of keeping these for myself as I LOVE them and making him those cigar fingerless gloves on Knitty a few issues back. Anybody made them yet?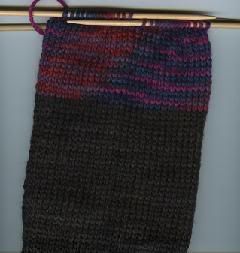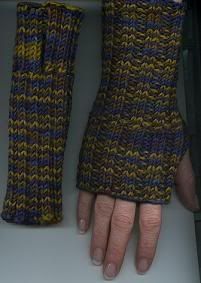 No early Jazz today AGAIN dammit!!! I'm GOING to go at 1pm so help me. I've got to get shaking this bootie so it can get smaller. I've now eaten mostly healthy for three days in a row. I realized I've officially over-lapped myself. I'm a skinny little thing from the waist up, a size 6. My lower half is MORE than twice that size now. While being double down low can be cute when you're a size 2 or 4, it's not so hot when you keep moving up the scale. Combine the big thighs and butt cheeks with dry skin, and I'm a disaster waiting to happen. Seriously, on exercise days I put on baby oil after the shower and extra lotion so all that friction doesn't make me burst into flames.