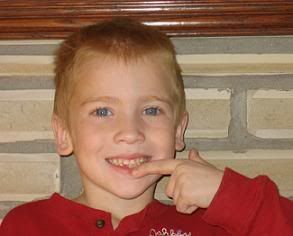 What excitement! This afternoon the nasty-hanging-by-a-thread first tooth FINALLY came out with the help of pancakes ala Jeff. Joey quickly learned to spit water through the hole in his teeth and we were all so proud.
Thanksgiving was great, good thing I didn't make any damn pies as everyone was MUCH more impressed with my panera's $7.99 coffee-cakes I brought than the damn Tippin's pie anyway. Jeff's grandma wrote out a much better crocheted shell baby blanket pattern for me and got me started. Tell me I'm not liked in this family now, boy. Crocheting with grandma's is ALWAYS good for the girlfriend. yup yup yup.
I'm slowly ebay-ing again...I do have a bunch of 2004-2005 knitting mags and a pack of plastic canvas mags on there too. I'm hoping to add a bunch of stuff to clear out room and make some $$ for some stash enhancement.
My ebay crap