First, the knitting stuff. Let's see.....AAAAAARRRRRRRGGGGGGGHHHHHH! I was SO FREAKING STUPID at the sale. Most of the stuff I just sold right off the table. A few I took orders for. no biggie. They're done and out. The ONE BIG MOMMA BAG I had done in a pretty cool painted yarn that I'd gotten CHEAPLY I totally didn't think and went "sure I can make it in that noro yarn, no problemo." WTF was I thinking? I'm almost making this stinking thing for free as I didn't increase the price because my brain was not working that day. cripes. Ah well, it won't kill me.

Remember Godfather's Pizza? I always forget about it when I'm doing the pizza crave. I think pizza hut, little ceasar's and pizza shoppe. Jeff called and told me that the Godfather's just down the street has that good pizza buffet and KIDS EAT FREE ON TUESDAYS. We went and pigged out and had a bucket o' beer last night. I think we spent all of $12. ATE like a big fat momma pig. It was yummy.

On the way home, the kids were quiet in the backseat. Normally this is a sign of trouble brewing, but they were just being artistic. Here's what they each did: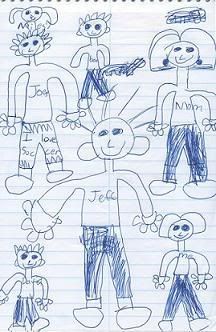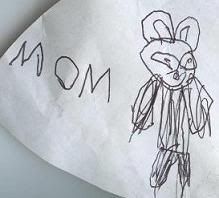 Beth drew the whole brady bunch we are when we are together and Joey drew his momma. Anyone else think I look like an evil mouse overlord?
OK, Joey came to work with me today, so I'm getting SO much work done, hah. I swear, our district has it made. They combine these teacher conference days with school improvement and teacher inservice and end of quarter, etc. days until it's like a freaking extra spring break for the kids. I know it's good for the teachers, but cripes it's hard on us parents. They've got no school for Wed thru Monday. It's getting creative around here. So far Joey's been pretty helpful in that he's found 18 spiders. EIGHTEEN all around my little desk in the dungeon. I'm just thankful my old assistant is no longer here as she had a major fear of spiders. ick ick ick