LOOK what I found at the local Hallmark store on the sale aisle??? Now I'm all pissy as most of the stock is GONE and it is SO ME!!!! Here's my new favorite things (yes, they are napkins, I am going to have to find somewhere to order a couple of framed prints, but until then, I think I'm going to find some square mats for my little napkins....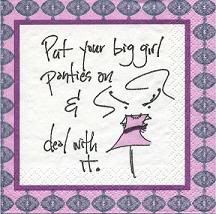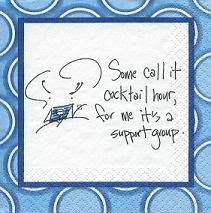 These are made by the same company that had the desperate wives cute tank tops done..."It's not me, it's you" etc.
Mary Phillips Designs
. CUTE STUFF, I just love that "put your big girl panties on!" HAH!
Well, here comes Kansas, leading the way for the conservative movement to take over the country... Kansas has a vote tomorrow for amending the state constitution to state that marriage is between a man and a woman only. I was actually NOT surprised to see our neighbors ("the Mary's", good little Catholics with the standard blue Virgin Mary statue in the backyard, and wife and both girls with some form of Mary in their names, I can never keep them straight...one's a Mary Elizabeth, one's a something something Mary and so on) and quite a few other houses with the little blue signs with a white brides dress and white tux and VOTE YES all over their yards. I was pleasantly surprised today. While driving down our road, I saw four, count em FOUR red VOTE NO signs, in the heart of conservative-land. Then, when I picked up Joey from my very favorite two ladies in the WORLD (his preschool teachers) they asked me if I was voting tomorrow. I said yes, not really thinking to go into anything major as these women are pretty conservative Jewish older ladies, and it just didn't seem the moment for a major political discussion. They both said they'd voted early and voted NO. Three or four other teachers in the area also voiced their opinion that no matter what their individual beliefs on marriage, a constitutional amendment is just one step closer to legalizing discrimination. Our country has fought too long and too hard to repeat its history. We need to move FORWARD and I was just very inspired that even in the heart of conservative-land, there are little buds of flowers pushing their way to see the light of EVERYONE having valuable ideas, opinions and rights. There is so much money pouring into this area through "committees" and "small groups" to further this well organized conservative agenda that it is frightening. I am noticing more people, even normally staunch conservatives getting uncomfortable with the levels of discrimination and government involvement in our personal lives. I am afraid it's a losing battle, but I am still standing in my little corner squawking like a crow in the midst of the robin revolution. Ok, it's late, I'm on some strange bird tangent and going to bed. ANYWAY, please vote tomorrow.
On a knitting-related note, I'm working on a strange mutated version of a buttonhole bag, that may or may not turn out cool in my esperanza yarn. I also wandered around the local goodwill shop for sale sweaters to recycle into nice things for me me me me me without spending all that $$ on yarn. I realized that we women either donate cheapo sweaters, or we wear the holy crap out of the nicer fibre ones first. I went through the men's sweaters, lost in a sea of thin cotton yarns and acrylic acrylic acrylic and then I got to the XL section. The few nice sweaters here had almost NO WEAR as big guys are usually hot blooded and not likely to hang out in heavy sweaters, and since the sweaters are big, I should end up with a butt-load of yarn, maybe enough for a sweater and matching scarf. I found ONE sweater in like-new condition, with good seams and it's in this heathery creme-brown tone that I think would look good on me. It's 55% silk, 15% wool, 15% nylon and 15% acrylic. It is size L, with cables all over the dang place and the yarn seems not too thin, we shall see. I am going to triumph over the unraveling of this sweater. One way or another, it will be reborn as a Knitting Virgin CREATION...
I actually wore COLOR today. (my closet is a sea of whites, blacks, and browns) I promise to take pics soon. In the mad mall rush of Saturday night (hence the reason for spending $3.98 on a sweater for yarn instead of online purchasing), I picked up this adorable little turtleneck cap-sleeved ORANGE-ISH sweater that apparently is my color for $10. I paired it with a pair of denim capri's (after serious duck-walking to stretch them to decent levels) and matching orangish wooden shoes and a fabulous hair day thanks to Miss Allegra's newest cut. I was all hot & happenin' and working in a basement with one other woman. woo baby. Ah well, at least the mojo's slowly coming back to me, if I ever get a life, I'll have a few things to wear to it.
OK, I've got to say it. You know someone out there was thinking it...I am a good little Catholic girl, (ok, so I was raised Catholic and I'm a girl--let's just leave it at they haven't kicked my little opinionated self out yet), so I preface this by saying these comments are NOT meant to be disrespectful, but seriously....didn't any of you think some of those pictures of the Pope in his red outfit laying there looked a bit like Santa Claus had just died? creeped me out, seriously.