OK, OK, for those of you NOT interested in my personal dramas, please read the knitting bits and move on. For those of you sweet people who want "more details dammit" and I quote, I'll add a few details after the knit bits.

Knit bits: Here's the re-started-after-frogging-the-whole-damn-thing-because-I-can't-knit-in-pattern-while-flirting-TEMPTING sweater (color is actually golden tan with a hint of yellow, very summery cotton & cashmere blend and soft and should be cute if it ever gets done....what's that up top in the pic? a gauge square or rectangle actually? Yes, the knitting virgin is getting a bit wiser as she gets older. She is tired of making sweaters that DON'T FREAKING FIT! Here's the progress:

Here's the newest felted groove bag in fragglestone esperanza, I think it may turn out pretty cool when it gets done...HOPEFULLY I'll have a damn pattern posted soon, if this one works better than the felted turd, that is...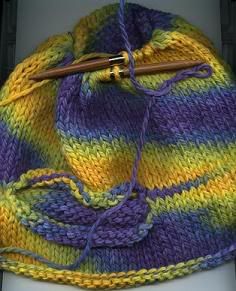 ENOUGH KNITTING, we want GOSSIP, dammit! OK, So first of all, I'm reading my chinese horoscope on yahoo, and see that at the end of April I'm supposed to fall in love at first sight. I thought, "whoa" (said like Grace on Will & Grace, two syllables, please), and realized though I won't go that far, I HAVE fallen in LUST-with-potential at first sight. I am LOVING this fun, flirty, beginning of relationship crap. I am just having too much fun. I've become so jaded and pessimistic in the romantic area lately that it's nice to just get those little "ooh, look who's calling" butterflies. Corny, I know it, but I love it anyway.
INAPPROPRIATE NON-KNITTING BORING DATE DETAILS FOLLOW, SO CLICK AWAY IF YOU DON'T WANT TO READ IT...
OK, so first kiss details...Sat. night we went to the comedy club with his best friend and her wife, who I LOVE and connect with immediately. It's like we're old souls, sarcastic yet cute ladies, much like us knit bloggers. Instant bonding. The boys were doomed. We had a blast. We laughed, we went for margaritas and chips at a mexican restaurant later and just laughed some more.
We went back to Jeff's house and suddenly they had to go home to check on the sitter...and then there were two... We go down to his tv room/living room thing (most of the house has no furniture as he just moved into a new house 2 weeks ago) and sit on the couch and listen to the stereo and start to chat about nothing in particular. He leans in, brushes my hair back from my face, takes my face in his hands and lays one on me. OH LORD I about died. I'm telling you, this guy can KISS, LORD LORD LORD. He even did the put his hands in the back of my hair and pull me to him thing that makes me melt like buttah.... I know, I know, the queen of sarcasm is turned into a 50's teenager here, but he's absolutely dreamy. I can't say it any other way. Oh, and there's the sexy mojo thing he's got working, combined with the sweetest and funniest personality too.
A couple hours of kissing, a little exploring, a lot of heavy breathing, I swear being a teenager was never this much fun. It took about ALL my willpower not to throw him on the ground and have my way with him, but I was a pretty good little lady. OK, I was a tramp, but I left with a few shreds of decency.
I will say that in our, shall we say, mash-session, I discovered (BY ACCIDENT--I was NOT groping him or anything, I just HAPPENED to bump up against him in just the right way) that he is quite well endowed. How wrong is it that I said a little silent prayer of thanks? I thought, hey, we're all God's creatures, right? I'm thinking SOMEONE up there decided I just deserved a little more than the average man to make up for some of the crap I've put up with in my life. Who says God's not a chic with a great sense of humor? She/He certainly deserve a little THANK YOU GOD for sending this great guy and his little bonus my way, right? I've actually been banking on the whole "God has a good sense of humor and weighs all the bad stuff I've done versus the good mom credits" for a while now, so one more grain of sand on the scales shouldn't tip me too far over, should it?
ANYWAY, what I like the most about this guy is he's the BEST father. He really puts his kids first and spends TIME with them on his weekends and evenings together, instead of just shuttling them around from place to place. They do the mad soccer practice/games thing with 2 boys, but they also spent Friday night sitting playing monopoly for 3 hours and made a pizza from scratch. He sent them to their mom's for Sat. night as it was Passover and his wife's family had a big celebration. I love that he respects my time with my kids as the most important thing in my life. It could work out to be something more, it might not. I think I'm going into this with the attitude that he's a neat, smart, funny, good dad of one of my son's friends who would be a great friend and if it happens to be something more, that's ok too. WOW, that's a serious step for the relationship-averse Christine I've become. Maybe I'm growing up. (probably not, don't worry)
Today I was on my way to work late this am after a meeting with Joey's doctor and the sad little "cf team" of 3 people (this time last year it was 20 medical professionals & nurses & dr's DAMN CUTBACKS) to convince them he REALLY DOES need oral antibiotics as though they don't entirely take care of his sinus infections, they do help. He's been having more sinus troubles that are starting the cycle of the big infection again. I was feeling kind of frustrated, almost teary and just generally worn out. Jeff called to say "good morning" and asked if I had time for a fast coffee break as I was driving right near where he was finishing up a meeting. We met for 20 min's at Starbucks and I left in the best mood. He listened to me ramble, reassured me and made me laugh. He held my hand on the way to the car and after shutting my door, kissed me genlty and sent me on my way. It was very sweet. I went on to work in a much better mood, then got the call that they approved Joey for his meds. It turned out to be a nice day even through the cold crappy weather.
OK, enough sappiness, it just seems so strange to me. It's messing with my natural bitchiness. Some crazy guy merged into my lane, actually tried to merge into my blazer, on the way to work, and after I swerved out of his way, he turns and flips ME off. I smiled at him. WTF? I've got to go pinch an old lady or kick a dog or something to equal things out. (don't worry, I really wouldn't do that, well, depending on the old lady and the dog.)