They FOUND my knitting! Woo Hoo's all around! I'm going to pick it up tomorrow afternoon, so Tina's Tote is still a go.

Joey slept through the night, only waking around midnight with the fever, got some tylenol in him, put him in my bed, and we both slept till 6:30. We got Beth to school, went back to bed and slept until almost 10:00am, so I'm feeling MUCH better about the world! It's amazing what a bit of sleep can do for you!

Kid's feeling better, but still feverish, so it looks like I may be home a bit more than I expected. Hope the ol "we'll work with you" still holds at work. We'll see I guess. I've got quite a bit done this afternoon, but need to put in some extra hours this weekend to keep up.

What else? That's about it, I'm so excited about getting my knitting back! WOO HOO!

Newest addition to the frog pile? Here's what it ended up looking like: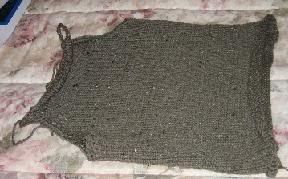 The curling edges did not get better with blocking, I just really didn't do a very good job making it. Then instead of spending extra time on it I realized, what kind of a person wears a 100% double strand WOOL tank top anyway? It was hot & itchy & looked ok, but was a bit big and needed some fitting as well since I made a size too big. I figure it'd make a better purse than a tank, so when I get bored, I'll frog frog frog frog frog it.

I do like the ribbon tank that I showed earlier and here's the closeup of the actual item. It's not mis-shaped, I was just lazy when taking the pic.