Sat. May 21, 2005 Shawnee Mission Park Shelter #8 CF GREAT STRIDES WALK Taking steps to cure cystic fibrosis
OK, I'm not fully up and operational, but we'll be soon having a link that accepts donations securely online through paypal and through the www.cff.org official CF website that goes towards TEAM JOEY's fundraising. Last year, our little team raised over $2500, and our goal this year is to hit $5000. Nothing like big goals, huh??? Ah well, here we go!

Great Strides is a nationwide 10K (6.2 mile) walk to raise money to fight cystic fibrosis. My son Joey is a 5 yr old battling this disease on a daily basis. It's a genetic disorder that affects approx. 30,000 people in the U.S. and the median age of survival is 33.4 (just raised within the last 5 years). The disease primarily affects the lungs and digestion, but moves onto osteoporosis and diabetes and other fun stuff as the kids get older. My son is living proof that these fundraising events work as two of the medicines he's currently on were approved within the last 5 years and have made the WORLD of difference, keeping his little lungs healthy and strong. In a nutshell, money buys science, and science buys life.

Anyone in the KC/Lawrence/Topeka area that's interested in joining our little team, send me a note and we'll get you signed up. We have SO MUCH FUN at this big ol' celebration. I have sponsor form/collection envelopes that I personalize with a picture & word of thanks for helping Joey and other kids like him. If you raise lots of money, yeah for you! If you raise $5, well that's $5 we didn't have before. Each year we make very stylish and comfy (just ask Amanda) shirts for our team members and I have to admit, a good portion of our team is a tad bit lazy, so we walk about a mile or two and head back to the big party. The best part of this event (besides the saving children's lives thing) is the FOOD and fun stuff for kids of all ages. We have donations out the wazoo of food food food, pizzas, subs, cookies, yogurt for you healthy ones, donuts for the rest of us, coffee, pop, water, granola bars, desserts, and on and on and on. We normally have a good d.j., there's a big playground for the kids, entertainment, firetrucks, you name it, we got it. Did I mention the food? Another perk of finishing early is you get the first choice on the chow.

Those of you out of the KC area, please don't feel obligated by any means, but if you're considering donating to a charity anyway, why not send some $$ to help my little guy and a ton of other kids like him. One story for what this money goes towards hits home VERY closely. My son is now at the point where he is almost entirely immune to all oral antibiotics that fight respiratory and sinus infections. This means that soon we will be like the thousands of other CF families, facing months of living with infections, then going into the hospital for "tune-ups" 3 to 6 times per year. Tune-Ups are scheduled for the kids to go in to stay at the hospital for 2 to 4 weeks and have i.v. antibiotics to help knock their infections down to a more livable level. One of the worst parts of CF is that these infections are not only antibiotic-resistant, they are extremely aggressive and pretty much don't go away. Right now there are new stronger antibiotics in the different levels of testing that can hopefully help keep my son healthier within the next few years. This all takes more money than we can imagine, so I fund-raise with a strong personal investment.

I'm hitting the LYS's and our local area grocery stores (with cute child in tow--I am LOW, aren't I?) to see if they will accept $1 donations for Team Joey. Wish me luck!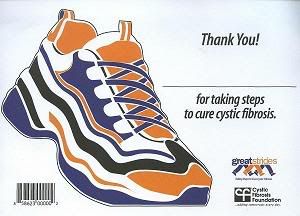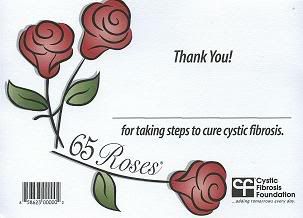 I think I'll put a virtual collection of the 65 roses cards with first names or blog titles on the donation line for any online donations. That could be really cool to see.

Here's part of our Team Joey 2004 group. This year, we will be joined by Miss Amanda and her friends, some of Joey's pre-school classmates and their families, a group of my asian friends, and anyone else I can convince to join the fun. You raise $$, I'll get you a tshirt and free food. What else could you want?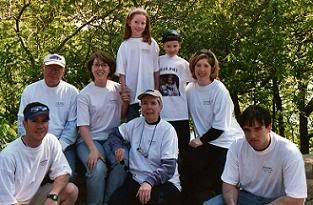 Last gratuitous shot of the cf poster child for Team Joey: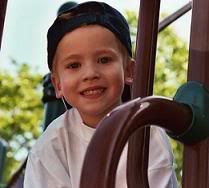 Almost done writing, don't worry! Here's a link to a little 2 min. movie showing scenes from a CF walk:
CF WALK SHORT MOVIE

Thanks for your support, thanks for reading, thanks most of all for your prayers and kind thoughts. It means the world to me that this circle of friends I've found online has become a part of my life.

OK, enough gushiness...

Tiny life & knitting update for the day--> LOST my knitting last night at the CF motivational meeting. Went back to the company where the meeting was held, and it was gone. :( 3 skeins into my "Tina's Tote" Gone, gone, gone. So sad. At least it was just a plastic LYS bag but it had 3 skeins knitted and one more of noro and my circ needles. sad.

Joey's going back to Children's Mercy Thursday morning for a day of tests as his sinus infection's back with a vengeance. I picked him up today from pre-K with a 103 fever and chills, went into the pediatrician, and one good thing is the antibiotics that he's resistant to for his sinus infections actually worked for his ear infections. The next available emergency-based appointment with the ENT clinic at Children's Mercy is in 2 months. TWO MONTHS. What do people not as pushy as me do with their sick kids????? Good thing my kid's got a way with the ladies, as his doctor gave me her email address for times when I can't get through in time at the clinic number. This amazing woman (who I LOVE LOVE LOVE) does all his sinus surgeries, etc. is going to squeeze him in for me. HOW AMAZING IS THAT????? She's the only specialist that works with CF related Sinusitis in the city and she has a bedside manner you would DIE for. When she saw he was crying and scared when saying goodbye to me before his last surgery, she came out of the operating room, bent down and asked if she could carry him into the room while they talked about Buzz Lightyear and video games her boys used to like to play. He kissed me and jumped up into her arms with his little stuffed cheetah. I'm wiping my eyes now just thinking about it. We are really blessed.

Ok, don't worry, it's back to normal SHORTER (yeah right, I type like I talk--a lot and fast) more life/bitch/knit/men related issues. Working at home tomorrow, which is a good thing. Tylenol & Motrin's keeping the fever pretty deal-able, so I plan on getting a little sleep.

ONE last note, the chocolate basket I won SUCKED. The big box of Ghiradelli dark chocolates had two, count em, two pieces in it. The other boxes had strange things in them that are being donated to the "give em to my assistant at work to make her stop talking all the dang time fund." See, I can still be catty, even when I'm sentimental. it's a gift.