OK, here it is...

My goodie package from Nyxxie!!! Can you believe it???? The pretty balls are hand dyed kettle yarn, and are soft & yummy! I am going to have TOO much fun deciding what to make!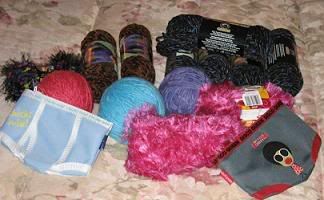 We need a close-up of the CUTE little bags too! I always lose my measuring tape & scissors & such, so now I'll be stylin and organized!!!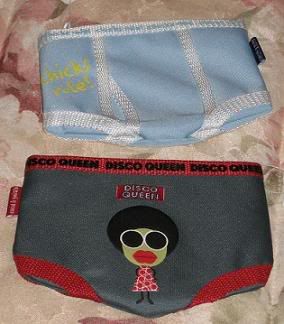 Here's the stylish Knitting Virgin modeling her ribbon tank finished (FINALLY) in the bathroom mirror: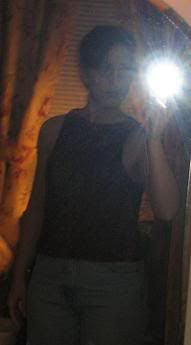 Here's my booga bag, it knitted up SO fast! I couldn't believe it. Gotta LOVE that noro yarn!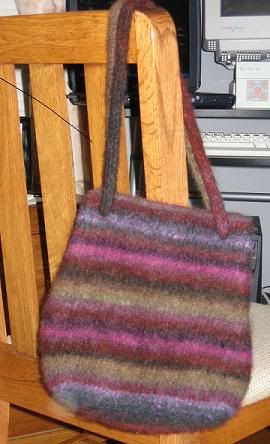 Not much happened on the life front today. I did get a phone call from Young Boy (my little friend w/privileges who's only 11 years YOUNGER than me) and we chatted. He is off to Vegas to bowl in the High roller and will take me out when he gets back. He's actually a very sweet friend, but it's still a bit weird.
What else? hmmm boring day really. OH, I can now whoop up on BOTH of my children on smashbrothers on the nintendo. Mommas beating their kids at video games, all is as it should be.
Went to the Great Strides team leaders meeting tonight. Our big walk is on May 21st this year, to raise money for Cystic Fibrosis research. Team Joey is growing stronger this year! I'll put a link on soon if anyone would like to contribute or join the team and walk in Shawnee Mission Park in May! We're hoping Miss Amanda comes back this year as we had a BLAST last year and raised a lot of $$. If anyone's looking for a great place to donate a little money, please keep us in mind. Joey's walking (ok running, jumping, climbing) proof that research money is working as three of his med's were just approved within the last few years and have made the world of difference. One of the newest things they're working on is new oral antibiotics so he can stay out of the hospital. We're almost at the point where he'll have to have i.v. antibiotics each time he gets any infections, which isn't much fun when you're a 5 yr old boy. OK, it isn't much fun no matter how old you are. On the Joey front, we're heading back to the pediatrician tomorrow as the ears are infected again, but he's not feeling too bad, so that's good. And guess who won the raffle for the Godiva Dark Chocolate basket???? mmmmmmmmmmm yummy.