Who IS this woman? The changes us newbies go through on this yellow brick road to total knitting obsession are really amazing. This same woman who burned her first set of wooden doublepointed needles in the grill and danced a little heathen "death to pointy sticks" dance now is soothed by the process of picking up a sock or sleeve working with a series of sticks. This same woman who gave away all her cotton sock yarn because the very touch of it in her hands creeped her out and made her very pissy now went to a big ass yarn sale and spent $200 on COTTON!!??!! WTF? COTTON? Well, it's really pretty cotton. It's weird. I've spent the last few evenings poring through old magazines (mine and Teri's too thanks babe!) and books and it's like they're brand new to me. The patterns I am attracted to now don't even resemble the ones I originally bought the books or mags for in the first place. Maybe I'm growing as a knitter and as a woman. Stranger things have happened.

Enough sappy stuff, we want PICTURES!!!! Right? Well, you're getting them anyway. Click the pics to get them bigger and in all their glory.

My shopping spree at the Studio... I got a Rebecca magazine that I swear I have, but couldn't find the damn thing. FULL of cute cottony sweaters and tanks, another pattern book with cute cottony and nylon/acrylic crap cute sweaters, 3 hanks of pink/orange/grey/purlple cotton for a sweater for my daughter (no pattern picked yet), 2 hanks of blue hand-dyed looking stuff for a little tank for me (no pattern picked and only 400 yds of yarn, so it'll have to be something pretty basic and little), the red is for Sizzle, the blue berroco suede is for the Sexy Little Knits bikini, and the hand-dyed lovliness is 2 hanks of about 840 yds each, destined to become something amazing, I just don't know what yet. It hasn't spoken to me other than to tempt me to spend more money than any woman should buy for fibers that did not come from an animal. Isn't it lovely? HOW heavy would a sweater of that become? I'm thinking I may have to do a little top and return the other one, but I want to make sure I have enough yardage first.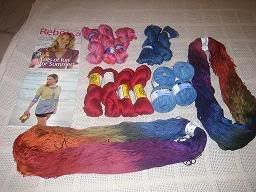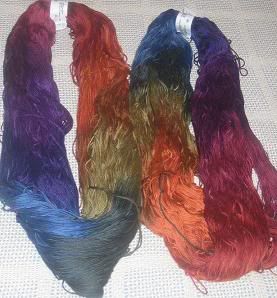 Though this looks like a really ugly bikini, it's actually the parts of cleo from knitty, a summer tank-ish top made out of 2 strands of knitpicks cotton/acrylic blend.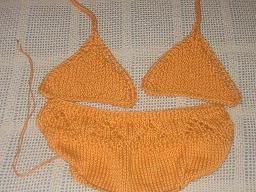 Teri helped me chart the Blue Suede bikini top as it SHOULD HAVE BEEN in the Sexy Little Knits book. Thank you thank you THANK YOU TERI!!! Again, I'm not bitter, I understand errors in printing, you should just POST THE DAMN CORRECTIONS ON THE INTERNET if you publish a book so knitters like me don't have ugly veins pop out in their temples and foreheads at 2am. Seriously, Ms. Designer Lady, you are a published author, you are an amazing successful fashion designer, you are freaking SKINNY TOO, please be nice enough to post the corrections. That's all I'm saying. I took it a step further and actually charted out the whole thing as since I'm making the teeny tiny size on the tops, there wasn't room for repeats and this way looks pretty good. I've still got to attach all the strings and ties and such and do the bottoms, and since the "LARGE" size on the bottom is about, oh, 6 inches too skinny for me, I'll be doing some charting there too. I'll post my chart once I get it officially printed and scanned so others searching out there may have somewhere to start.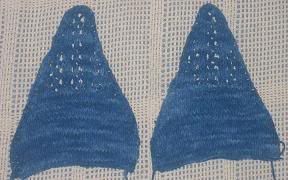 OH my daughter is working on her first circular needles project and has about one inch done on her first felted bag with a beautiful malabrigo in blues & greens. Very cute!