I'm suffering from some SERIOUS "got-to-finish-something-itis" lately. I got about 3 rows past the BIG OL bottom of the knit project bag I started over the weekend. I was so antsy I was rummaging through my stash, checking out patterns, basically in a tither for no reason. aarrrggghhh. Finally sat my butt down and knit a few more rows, watched Dave Chappell's one-hour comedy special on Comedy Central (hysterical) and was all better. But I'm still wanting something to work on in addition to the never-ending boring brown/black stitches for the bag. maybe I'll do some more of the crocheted flower scarf/belt things. yeah, that's the ticket. some fast crochet projects will keep my crafter's soul pacified while stitching away forever on the bag. I'm wanting to find some more schaefer's esperanza for some more felted groove bags, those are so much fun to make as the color patterns do cool things right before your eyes. Maybe I'll go looking online.... That would be a fun project for the vacation in 2 weeks.

What? Vacation? YES, for the FIRST TIME EVER I am taking my little chitlins on a REAL vacation. Not to the lake. Not to Great-Grandma's house. Not to a family reunion. Nope. We're going to the BEACH BABY! My baby bro, remember, the cute one? He and his fiance are living a few blocks from the beach in Naples, Florida.....WOO HOO! We're going to slather on sunscreen, take my butt-white baby redheads to the beach each am and pm and in the afternoon prime-time cooking hours go to the zoo or a movie or something INDOORS. Can't freaking wait. 4 days in paradise. We are NOT going to anything resembling Disney as both children would not survive the trip. Their momma is entirely too pissy for that much excitement and only one adult vs 2 kids. Not gonna happen. We'll wait for a big family trip with granparents, uncles, etc.

A frightening thought...Senior Bush plugs Jeb for president 'someday' Now, don't get me wrong. I'm not a bush-hater. Nope, but I am a BIT disappointed with the bully our country has become in this administration. I realize pappa bush didn't do too much damage, he's a nice old guy, but GEEZ LOUISE hasn't your family done enough for our country?????.... Now, I also realize with a name like "Jeb" how can you NOT be President? We've had the "G.W." nice little redneck initials, and Jeb would just be a continuation of the status quo.... scared you just thinking of it, now didn't it??????

What else was I thinkin' on today??? OH yeah, here's a NEAT site and for you knitters more talented than I am on the little dpns, REDSWEATER.ORG. This site has been written about in a couple of knitting magazines. She's not trying to change the world, but wants people to think about the ways the war is affecting our people., She is creating a work of art with a knitted or crocheted little red sweater representing each US soldier killed in Iraq. There are knitters across the nation submitting sweaters for the cause. It's kind of a cool site.

I'm slowly working on updating the old blog...but I'm too lazy today. Here's a few pics I submitted for the art sale I'm doing in the fall. (smaller versions here)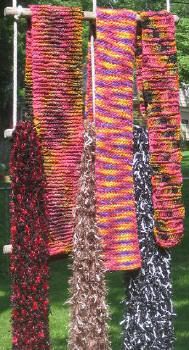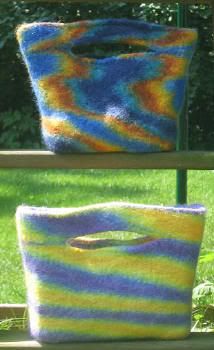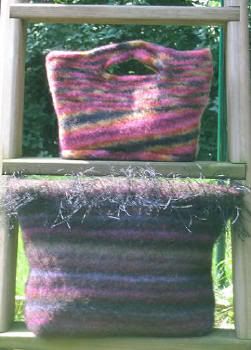 I also made me a new button, I'll post it over on the sidebar someday...




And just because this pic cracked me up...Elvis came to the CF walk and was singing and strumming his guitar as he rode around on one of the golf carts inspiring all the walkers....