First of all, the great knit-off is kicking my living ass. The joy of being a knitting virgin you see, is that I don't come from a background of KNOWING anything about the damn art. I wasn't aware that kirchenering was hard for people, that many do anything else to avoid it. I just had a pattern that called for it, went out and found directions for it and did it. I do this with every new thing that presents itself to me in knitting. Lace caused me many MANY nights of cursing and a few tantrums, but now it's something I love. Each new technique has been a challenge, then something I added to my growing base of knowledge. So why all the philosophy from me first thing in the morning?
uniscarfity
from Magknits gave me more headaches than any pattern I've ever attempted. I finally got it figured out THREE DAYS into the competition, and now after working ALL EVENING have something as long as my freaking cell phone. *sigh* Six starts. Six starts that were each one as long as my damn cell phone. I kept knitting thinking "maybe the pattern will start to show once it gets a little longer...." yeah. good luck with that. For now, I keep checking to see if anyone in my group posts a completed photo and puts me out of my misery. I just can't seem to give up. Not in my obsessive little nature I guess.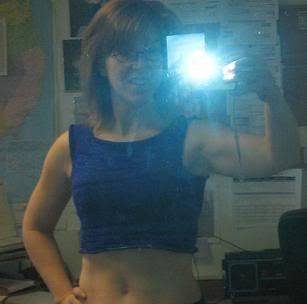 Are you ready for some SKIN people? In between my rants and tantrums from the not working honeycomb brioche stitch scarf or as I began calling it "Satan's Noose" I worked a few rounds on the picovoli. It looks great and I happen to think that I do too! HOW ABOUT THAT TUMMY LADIES AND GENTLEMEN???? That's my "two-pack". I've got 2 lines defining my tummy muscles (no 6-pack, I'm not working that hard!) This is the new and improved me. I'm not brave enough to post the "before" picture yet. My trainer wants me to go for about another month of workouts and do an official "after" picture. I said he could use my chubby and hot little self for motivational/promotional advertising. Yeah, um, the before wasn't pretty. I said only if my after is totally hot. :) Nothing like a little vanity, huh? If we get that whole thing done I'll do a link to it for the brave at heart out there.
Introducing the almost completed picovoli in Twisted Sisters Yarn on the almost completed Christine! I now look in alignment. It's been over 14 years since my arms went straight down at my sides, not out at a big angle to rest against the hips & thighs. My tummy is GONE (five inches smaller), my thighs are now 3 inches smaller. THREE INCHES, can you believe that? I've gained and lost weight many, many MANY times in the last 20 years and I always stayed the same shape, just a little bigger pear and a little smaller pear, but always very bottom heavy. I am full of energy (even off the energy drinks), I can wear NORMAL CLOTHES off the rack now, I go running and playing football, catch, biking, etc. with my kids, I'm a freaking miracle. I'm very proud of myself today, with or without winning the bet I'm in better shape at 38 than I have been since I was 18. yeah for me! Thirty-four pounds lost so far. Un-freaking-Real.
I finally found the manual for my camera, so maybe I'll figure out how to use the timer and can quit taking pictures against a mirror with Jeff's bulletin boards in the background and a post-it note over the flash. maybe.
Still have 5 pounds to go and about 6 days left to finish the bet from hell. I'm glad I did it, this has been the only thing big enough to motivate me to finally get healthy. I think once it's over I'll still keep exercising moderately and keep up my workouts with Trainer Man and eat mostly heatlhy, but I'm SO having a "Christine's bet is over so she's getting pickled" party and drinking some serious Mike's Hard Limeades, carbs and all! WOO HOO!
Seriously, I love my trainer. He's SO NICE and motivational and he helped me work out a changing food plan that kept me sane and lost weight. He's CHEAP (about $35/HOUR sessions) and you can either work out at his gym around 135th & Nall or he'll come TO YOUR HOUSE for HOUSECALLS! He also does group workouts and buddy workouts if you and your hubby want to work out together or two girlfriends want to work out. If anyone's interested, please either leave a comment or email me at treasuregoddessATkcDOTrrDOTcom and I'll give you his info. He's really not intimidating at all like many trainers can be, just works with what you can do. The first time I went to him I tried to do one pushup and never got up. He didn't laugh, he just changed things around and LOOK AT ME NOW! I was doing pushups with my feet on a weight bench and my hands on a yoga ball the other day. Un freaking believable results. Even if you just want to get a little more energy. He's awesome.