click for bigger pic of my present!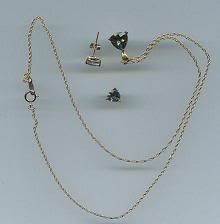 He did great! We had such a wonderful evening! Did the whole turkey breast, mashed potatoes, green beans, corn, crescent rolls, gravy thing and it was SO SO SO good! Kids all played well together, everyone loved their presents, we had a fire raging in the fireplace, played a bit of monopoly and then after kids were in bed, we snuggled on the couch. No big "L" words, but some very intense loving looks and then he said "we're going to be ok. you know, right?" I'll take it.
The pic above doesn't actually show the color very well, the stones are lighter with firey little bits of green. Sounds weird, but looks great! I didn't give him one hint as to what I wanted, but this was PERFECT! :) Big ass smile on my face. I gave him this black serving tray with photos put in of him & his boys, each of his boys' school pics and a pic of him and I and all 4 kids riding on sea-doo's. He has this big monster black leather ottoman as his coffee table and had this sad little silver tray that wouldn't even hold one drink without tottering. I also made him an afghan for his new dark blue leather couch in the fireplace family room. He seemed to really like them, he is all into that whole "making something by hand means something" thing, which I love about him.
MERRY MERRY HAPPY HAPPY and all that jazz!!! You all have a wonderful holiday, we're off to western KS to see the grandma's and will be back on Sunday night.