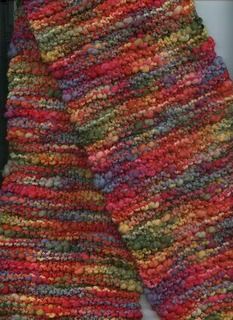 I have been working on my "finished objects" list today and had such fun looking over the things I've done. I can't believe I've only been knitting for a little over two years. This amazing way of creating things with a couple of sticks and some string has become such a part of me. What did I do before I had knitting to help me through stress, to do while watching tv, while sitting in stands watching kids play sports? sit through PTA meetings? wait in line at the drive thru? on road trips?
On a whim on a lunchbreak during another stressful day at the office (back when I worked in the dungeon with the spawn of satan who lived and breathed to try to get me fired and other cheerful people like her) (there were about 4 people that were nice, I liked them, I just had to hide in my little office for most of the day breating recycled air), I'd wandered down the sidewalk from a pizza shop and was drawn to this little tiny shop with a sheep welcome mat outside. I thought, what an odd little shop. I pushed open the door without even meaning to. The colors, the fibres, the textures, the smells, I can't explain it but I can feel it even now. I'd always been craftily creative. I cross stitched, I embroidered, I needlepointed, I crocheted, I sewed, I did just about anything you could imagine, but it was all just stuff and things to do, never quite what I'd been looking for.
Jan, the owner of KnitWits, smiled and welcomed me to look around and told me to please touch anything I wanted. After a few minutes, I ended up watching the ladies sitting and knitting and laughing at the table in the back. It reminded me of the old-time quilting bee I'd always read about. I felt this physical need to be a part of that, to create something so beautiful, so touchable, so wearable and to have such fun doing it. I must have looked like a lost puppy dog as I was told they had a learn to knit class the next night and they were sure I'd be knitting along within half an hour. The rest is history.
Here is the first item I ever knit. I went home that night after Jan taught me the knit stitch, the purl stitch, to cast on and to bind off. Literally everything I needed to know in about 20 minutes. I think I knitted that first night until 4am.
A plain old garter stitch scarf. Still my favorite next to the clapotis. Schaefer hand-painted Elaine yarn one big skein, size 11 straight needles. Made the fringe first, cast on 20 stitches and knit till I ran out of yarn. It ended up about 6 inches wide and long enough to wrap around my neck and still hang down on both sides longer than you need. Looks unbelievably good with my old beat-up denim jacket. Still smells a bit like vinegar from the dying process.