First pair of socks OUT IN THE MAIL baby! WOO HOO! MAN it was hard to mail these off, I didn't want to let them go. Good thing my target had itty bitty feet so not only were they FAST to knit, but they wouldn't fit me either! Let's all admire the pretty koigu..... (ok, so I'm totally going back to get another 2 skeins to make myself a pair too, can you blame me?)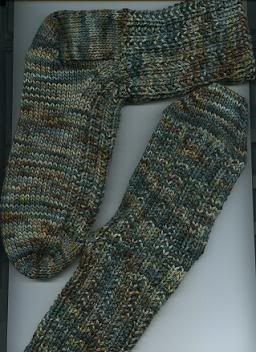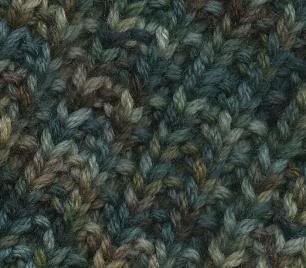 Now the waiting game begins....will my socks get here before my target's unfinished socks come to me to finish? What a fun concept this sock wars thing is!
NOW I'm going to start on the neckline of my sweater to get it done. Of course, the honey boy who, um, NEVER wore the big ol' socks I knit for him for valentine's day last year....Ok, he wore them ONCE. He starts pouting about me making socks for some woman instead of for him. Now he apparently LIKES the socks I made and wants about 4 more pair. cripes. I have about 45 projects I need to start. Somehow through the tank-top knitting craze that took hold of me recently, I totally forgot that Christmas season is coming! HOLY CRAP!!! When did this happen? I went on a field trip with Joey's class and would have frozen my ass off, but for the wool products I was sporting (socks, sweater, clapotis, wrist warmers, ear band) YEAH baby, WARM WARM WARM! I'll put up pics tomorrow, the farm was so cute! We went to the red barn in Weston, MO and toured pumpkin patches, apple orchards, bee-keeping stuff and saw the animals and talked about WOOL in the blindingly cold wind! They even had a felted wool blanket covering the bee-hive thing to keep the queen and her minions toasty warm. I need me some minions. I have children and people that annoy me, I could totally work the minion thing.
Anyway, MAJOR feelings of stress......wrist warmers for teachers, socks for honey, sweaters for both kids and the honey and shawl for Jildo, not to mention I need to finish some socks for ME to keep my little toes all toasty (one and a half pair just won't work out for the entire winter). I'll most likely get in another major fit of startitis and say screw it all, and start another totally inappropriate project. Life can't be all planned and make sense, can it? I think I may just spend the evening after the kids go to bed tonight sorting through the stash and getting inspired.