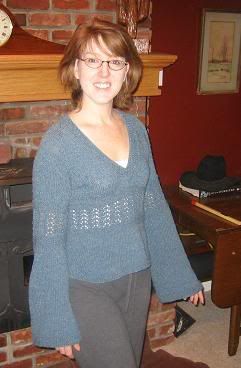 I LOVE THIS SWEATER!!!!!! Details:
Pattern:
Simple Knitted Bodice
by Glampyre
Yarn:
Silky Wool by Elsebeth Lavold
color #16
Needles: sz 7 and 5 circ addi-turbos
Time: I think around 1-2 weeks total
Adjustments to Pattern: knit garter stitch rounds instead of the purl bumps called for on each side of the lace, at end of sleeves and neckline. It just looked more flattering for me.
Fit: Like a freaking dream
(Please ignore the fact that I'm wearing this over my workout pants, I had to get the bf to take the pic before he left for work and I've got to go walking and working out in a few minutes!) I think I need to keep making sweaters. This one and the sizzle are the only ones I actually wear. All the rest are laying in wait for a frog session and to be re-knit into something that FITS! Yes Virginia, there is a swatch goddess, and she gets really pissy if you don't MAKE SWATCHES and then KEEP MEASURING and TRYING ON sweaters as you go. I think I'll wear this one every day. If you click the pic you can see a close-up of the lace panel. I'm making another one in the short-sleeved version, but haven't decided what color of yarn yet. I think I'll make a smaller size for it and will absolutely use the same yarn. It almost never split and has a fabulous drape, isn't too heavy but is quite warm.
All in all, a keeper!