OK, I admit it, I have a serious problem. Not the sock yarn pictured below, even though I've made all of 6 pair of socks and have enough to keep the whole family in socks for eternity, nope. The problem is that I have that sock yarn (um, plus another bag of lorna's laces sock yarn & 4 more big-ass balls of opal). Nope, the problem is that while I have ALL that yarn, I went out and bought more. After blowing the budget for yarn for the rest of the year. But seriously, can you blame me? I am trying very hard to find brown, black and grey yarn. Not hand-dyed multi-colored, nope, BLAH yarn for Jeff's socks. He loves the one pair I made him, but they were artyarns and a bit too flamboyant for him (dark blues & greys & greens). I have tried very VERY hard to knit boring blah socks, but I just can't do it. Then I wandered into Knitwits in Olathe. Damn that store. I do love it. I said, "I'm just wandering, just getting ideas..." then mentioned I was looking for man socks that had to be muted but that wouldn't make me insane to knit and if they happened to be heavier weight to be knit on 5's...but of course you wouldn't have anything like that, right? BAM. I'm hooked. Mountain Colors in the most luscious browns you've ever seen. It's muted, it's understated, it's LUSCIOUS in my hands, and the boy loves it.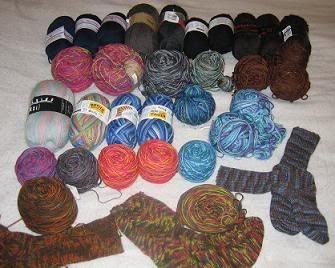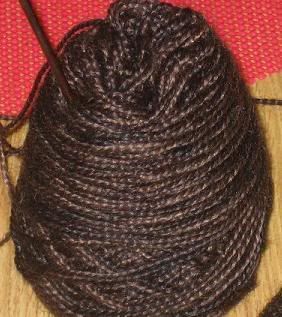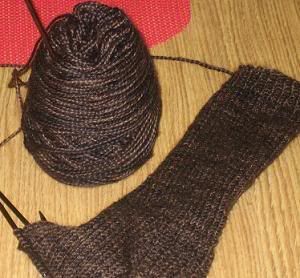 Why, Christine, that looks like quite a tacky table you're using to photograph that yarn! Yes, yes it is. It's an authentic (chewed gum was even under the table when we got it) old diner booth and table that Jeff found and fixed up and now it's in the corner of our kitchen. We LOVE it! Welcome to the Big Heiny Diner..."get the hate off your plate" I'll give the man some credit, he is creative. The bulletin board and the trivet hanging on the walls were made from wine corks he put into heavy wood frames he made. I'll make brown socks for this boy anytime he asks!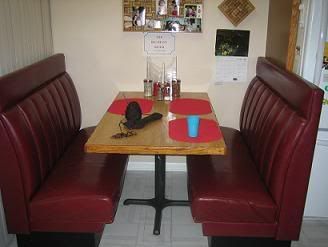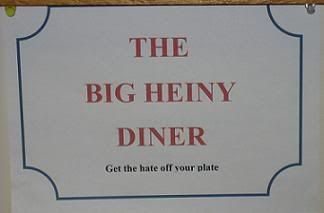 Come back soon, ya'll!