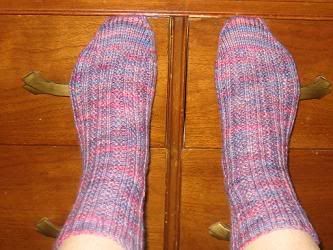 These were waiting for me at the post office this morning. I even had this cute card inside showing a roadmap of the trip my socks took from the initial assasin on the east coast out to Carrie in Seattle to me in KC! The kids got quite a kick out of it! Socks fit and are even hand-painted wool and LOVERLY!! I'd totally do sock wars again the next time around!
I was sitting at a yarn shop the other day knitting and said something about having startitis. This lady that was shopping said, "but don't you ever get finishitis?" Yeah, right. Well the closest to finishitis I've gotten is all of a sudden I'm in a hurry to start on my Xmas crap but want to get a few loose ends finished up. Last night I finished Joey's pioneer colorway socks out of Lorna's Laces which I LOVE!!
OK, enough knitting crap. Here's some pictures from the field trip the other day with Joey's 1st grade class in the COLD COLD COLD morning air. Mine is the one in the ski mask. We had an absolute BLAST! I'm going back to the Red Barn Farm in Weston, MO sometime to wander through the big ol' gift shop and to just be outdoors in the pretty surroundings! Have a good weekend people!