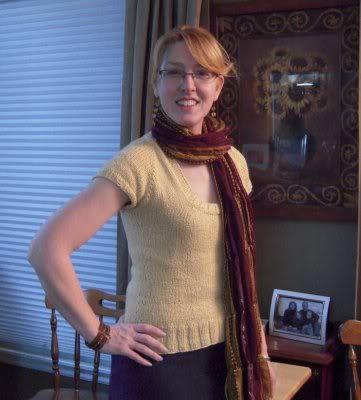 Details:
Pattern is
Tomato
by Wendy Barnard. Yes, I do actually knit sweaters not designed by WB but I do love her top-down raglan styles and well written patterns.
Yarn: can't remember, but it's a worsted weight blend of mostly cotton with a touch of cashmere. Soft and almost fuzzy.
Knit in 2007, maybe worn 4 times since. I think it'd work well over a white shirt as a vest in the fall too! I actually started out the day that way, but almost burst into flames by 8am and had to change to a little lighter version. The neckline is a bit plunging for me, so I accessorized for the office with a scarf and jewelry. I'm feeling quite the fashionista these last 2 days. :)
OK, now for the not so pretty. Please click away if you've eaten recently. This yarn was frogged from one of the first sweaters I ever knit. The sweater I went to a local yarn shop to buy yarn specifically for. I had my printout in my little hand. I asked the LYS worker for help. She told me, "As long as you match the gauge, it doesn't matter what kind of yarn to use. Let me repeat...AS LONG AS YOU MATCH THE GAUGE, IT DOESN'T MATTER WHAT KIND OF YARN TO USE.
*cue creepy horror movie music now*
She SAW the pattern. It was a sweater made entirely of ribbing. She found me worsted weight cotton with just a touch of cashmere. It was expensive. And did I mention it was mostly cotton? And that the sweater was ribbed? Entirely ribbed?
Ok, last chance. Click away if you've got a weak stomach.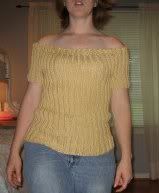 I warned you. Holy crapamoly. Could I have looked any frumpier? And could the sweater have been any heavier? seriously? The ribbing? The way it just hung and sagged down to the hips? HORRID! The scary thing? I was so freaking proud of knitting this damn sweater and getting gauge that I wore it. In public. Even on a date with the man that ended up marrying me. I know. It boggles the mind, doesn't it?
I swear. That woman should be locked in a small room with plastic needles and red heart acrylic yarn. Not the new "soft" acrylic red heart of today, oh no. The squeaky, so rough you got splinters from it acrylic red heart of yesterday. I think I like the new sweater this yarn got to grow up to be just a titch better than the original. What do you think?