I'm amazed at how many different hand knits I was able to pull out of the closet and WEAR in the month of May! The cold weather snap helped a bit, but that's clearly over, temps are supposed to be in the upper 80's with serious humidity. Looks like I'll have to pull the big cotton uggo out later this week to make the last 5 days. It's made me FINISH some projects, BLOCK others and decide which are truly wearable and which need to either be frogged or find other homes.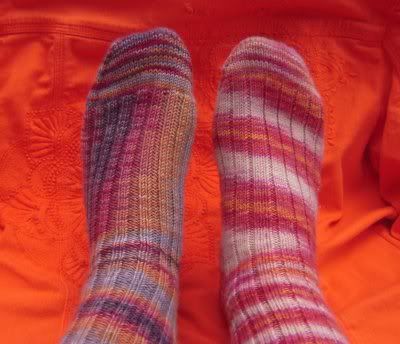 Day #14 of Wear Your Knits Challenge
Weather was still cold, had no socks left to wear, so got creative. Wore this "pair" with my orange jacket. I don't have normal shoes. All of my shoes are either clogs or mules (no backs) so I figured as long as I only crossed ONE leg and kept the other out of sight, I'd be ok. Each one matches the jacket, just not each other. :) The other socks are both sitting in the darn-it pile.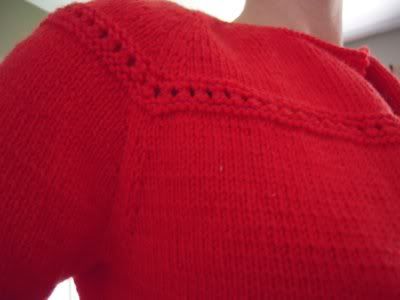 Day #15 Challenge
Pattern: Chicknits Eyelet Cardi
Yarn: Cascade 220 gifted from
CheryKnits
! Color is actually much more orange, camera angle was funky.