Welcome to visitors from Whip Up! I apologize for your first view of my blog to be an armpit shot, but that's just the kind of high quality blog fodder TreasureGoddess provides. :) If you've not been to Whip Up's site, why not? Amazingly full of tutorials, patterns and creative ideas to get you motivated to create! (My felted wool bead bracelet is due to show up on Whip Up's site any moment now. woo hoo!)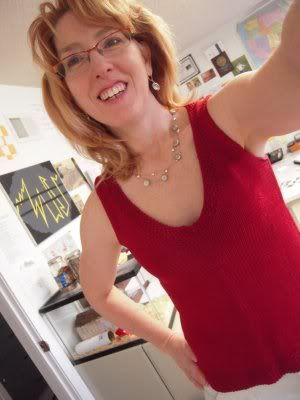 OK, on to the
CHALLENGE
! After one more season of packing up beautiful hand knit clothing that was ONCE AGAIN not worn for an entire season and unpacking beautiful hand knit clothing to put on shelves that weren't worn the LAST TIME they were out for the enitre season either I decided enough was enough! Why do so many knitters (and crocheters) spend hours of their lives, money they quite probably can't afford, creating these amazing items and then NEVER WEARING THEM? It's time for a change! I'm going to challenge myself, and anyone that wants to come along for the ride, to WEAR YOUR KNITS! I know this would've been much easier to do in the WINTER or FALL, but I imagine there's enough cardigans, light scarves, sleeveless sweaters, headbands, wrist cuffs, etc that we can do it. Or at least be motivated to try.
Come and join the crazy! WEAR your HAND KNIT/CROCHETED/SEWN creations! I figure if you run out of hand created stuff, at least wear a purchased sweater or cardigan or headband to keep in the spirit! Because I'm a true slacker at heart, I'm only aiming to wear something hand created Monday through Friday for the Month of May. I'm going to slum out on the weekend and go back to my usual cropped jeans & t-shirt & crocks attire.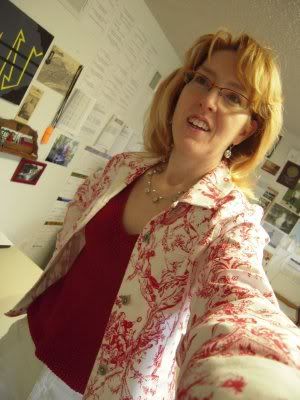 DAY 1 Monday, May 1, 2010
Hand Created Item:
Sizzle
, by Wendy Barnard.
Knit in 2006
Yarn: Classic Elite Yarns Provence 100% mercerized cotton
Before this worn maybe 3 times TOTAL, all in 2006.
There's really no rules to the CHALLENGE. Just try to wear something hand knit, crocheted, sewn, beaded, created by YOU each work day of the month. See how far you can get! Join the ravelry or flickr group and let's see you WEARING your hand crafted creations!


the Flickr Group





the Ravelry Group