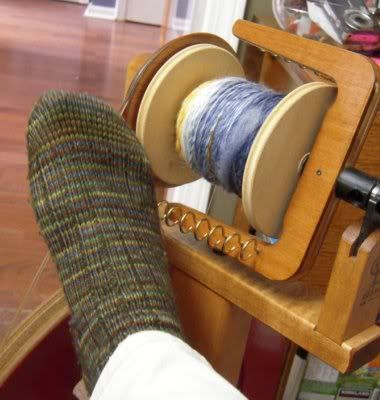 I'm down to TWO pair of wearable hand knit socks. It's a disgrace. TWO. It's not that I don't darn. I darn all the darn time. I've just realized looking back through ravelry that I've not made a single pair of socks since July 2009. I'm hard on socks. I *occasionally* forget to put on shoes while walking out onto the driveway, the porch, the street. I don't just get holes in my socks, the bottoms evaporate. Yes, I know Elizabeth Zimmermann has a great re-sole-able sock pattern, but I don't care for it. I like knitting my socks top down and round and round. I've got some ideas for those socks that are no longer darnable....if anyone happens to have some socks that are beyond darning, keep me in mind. I'd love to re-purpose them.
Wear Your Knits Challenge Day #9 (yesterday) was this lovely pair of my basic socks. Yarn: handmaiden casbah Needles: 1.5 hiya hiya double points (my faves) Knit in March 2009.
I love my kiwi spinning wheel. Here's another shot. The kiwi carving turned out dark and outlined from the way the varnish turned on the wood. I *heart* it very much. Looking down and seeing a hand knit sock and a kiwi, it just makes me smile.