All the advice & comments about photographing your knits, yarn, etc for blogs & etsy shops all say the same thing. First use natural lighting. Check. Second, get up close and use macro settings. Check. Third, find your "Photographic Style". A style so "you" that immediately upon seeing a photo, everyone KNOWS who it belongs to. Apparently a true artist will "fall into" their own personal style. It'll just suddenly appear out of the multitude of shots they take. (ummmm, is it too late to change that now?)

First, the Wear Your Knits challenge Day #7 photo.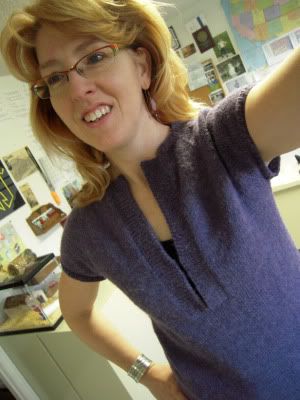 Pattern:
Glee
by Rachel Bishop. Good old knitted-in-the-round with minimal finishing. I love that!
Yarn: Knitpicks Andean Treasure (sport weight 100% alpaca) WARM and soft
Knit in 2007, worn often in winter over a black long sleeved t-shirt.
Due to the weather dropping severly, this baby gets one more wear before the humid 90 degree weather makes it unwearable.
SO...anyone picking up on the TreasureGoddess photographic style yet? Bueller? Anyone? Yup. Armpits. Armpits and funky backgrounds captured on an angle. Holy Crap-A-Moly! I mean I know I had one or two armpit shots on the old blog, but seriously? You see angled armpits & wooly sweaters? You know it's ME! (We should all be thankful it's not wooly armpits sticking out of wooly sweaters, it could be so. much. worse.) The only way an armpit shot could be MORE TreasureGoddess was if you instantly heard banjo music in the background. How High class is this shot? That's Randy the Rat's cage in the lower left corner of the photo. boggles the mind, doesn't it?
I knew I posted an armpit angle shot once or twice, but how often do I finish a sweater and post a pic? Once every 4-6 months? As I scrolled through old sweater photos, I was amazed. Photo after photo was armpit, armpit, armpit. Wow. I am clumsy and can't get the right angles when using the timer. That's a no-go. My family royally SUCKS at taking photos of anything yarn/fiber/ME related, that's a no-go. I'm thinking the only hope is to train my daughter before she changes from the "ok, I'll tolerate mom for modeling her yarn/hats/knitted stuff" to "I'm not doing ANYTHING yarn related with this woman they SAY is my mother!" I've not got much time. She's 13 1/2 yrs old and only mildy tolerates my yarniness now. I have to pay her in sonic banana shakes for any modeling shots. There are many photos with eyes rolling that don't make the pattern pages.
On a non-armpit related note, my very favorite hot pink felted wool bracelet was chosen in a cool treasury on etsy! Please click the treasury and see the amazing hot hot pink creations by these artists!
Hot Hot Pink Treasury