As I was cleaning out and trying to pare down and LABEL and ORGANIZE my unbelievable amount of craft CRAP I came across these...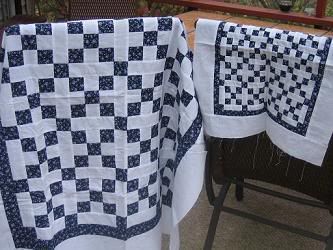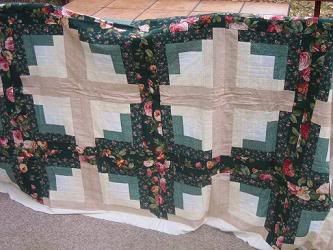 I totally forgot these were even in there! Buried in the bottom of one of the big ass heavy tubs of stuff were these quilt tops!!! I'm so excited! The white and purple squares set were started when Elizabeth was a toddler, I thought I'd give them to her, one for her and one for her dolly. Well, um, she's turning TEN YEARS OLD this weekend. So now I think it'll be Xmas presents. The larger one is larger than a lap quilt, but not big enough for a twin sized bed. More of a nap-size snuggle quilt. The tiny one will be for her favorite stuffed animals or a pillow, depending on how motivated I get. I need to get some batting and I found the white muslin I had bought for the backing. I've never made a binding and don't really know how to finish the damn things. (I'm not only the Knitting Virgin, I'm a Quilting Virgin as well---no freaking idea of what I'm doing!) Maybe I'll hit the library for a book. The pattern was from a magazine and is long, long gone. The big green & cream log cabin mess is from one of those quilt-in-a-day classes I took also in the 80's (bet you couldn't tell with the big ass FLOWERS everywhere, huh?) I now hate the colors and the prints, but think I should finish it anyway since it was my first quilt attempt and we could always use it for extra warmth. Maybe some other day. For now it's going into the smaller tub marked "ugly quilt attempts" with a few strange hand-pieced things I'll photo another day.
Some actual knitting was done around here as well, here's a close-up of a headband done with some leftover lorna's laces sock yarn in ??? color, I find every skein tag but these. I swear they self destruct as soon as I start knitting. Link was in the earlier post about left-over sock yarn ideas. I actually blocked it! (my first piece that was blocked EVER!) Wet the thing, swooshed it around and then rolled it in a towel, stretched & pinned it out on the carpet and voila! a blocked piece of knitting! cool beans. excpet I knit it a bit too long, so I may give it to Beth for a belt instead.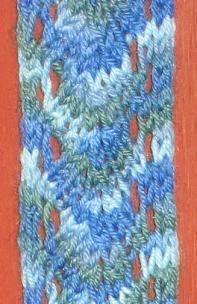 I'm ipod-ing my little heart out. What knitting podcasts do you guys like? I'm just starting to roam around looking for them.