The man of the hour, JOEY!!! running at the end of our 3 mile walk!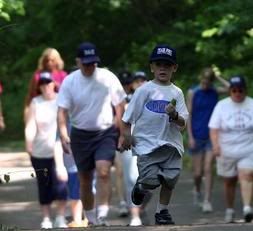 Here's some pics from the end of our cf walk. The Kansas City Great Strides walk raised over $195,000 for research! WOO HOO! Thanks to everyone for good thoughts and donations! Here's some of the kids, me and half of my honey's face: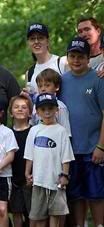 Here's a few more hightlights. The boys had a BLAST! My daughter finished so far ahead of us she was sitting down drinking a pop in the shade with my aunt while we were struggling up the hill...







Apparently the damn Tempting sweater is a bit BIT big. I'm tempted to rip out the tempting and reknit it with smaller needles.......but I'm going to do it LATER. I think I'll get the ribbon, wear it and just not bend over as the whole thing would probably gape atrociously and give a peep show.... My pics just wouldn't turn out. I had my daughter helping also, and we got pics of the floor, my elbow and a REALLY scary closeup of my face that made me feel SO old, so no pics yet. I'll see if Jeff will take one of me tonight.
DUNGEON UPDATE...And then threre were two (AGAIN)....but wait, there's more...Ms. L (my assistant) has accepted a position paying her $5 MORE an hour just down the road. It sounds like the company has been around a long time and the last time they had to hire someone was in 1994, the lady who's job L is taking had to relocate with her hubby. STABLE company with GOOD benefits paying HIGH wages. Who'd have thunk it? I'm very happy for her, but a bit sad for me. Though I did complain a bit (ok a lot but I'm a complainer you know) I did LOVE working with this lady. She's sweet and caring and DID HER JOB and a LOT of extra work to make my job easier. Ah well.....local bossman is traveling today and the other owners are in Mexico, so the crap has not yet hit the fan....Thank goodness we have a very bright part timer here or I'd have to run away home and work....and hide....
LATER!