SO, I got my new glasses today. I, um, well, hate them with every fibre of my being. They are orange and green. ORANGE and GREEN. As my best friend in the world, Jildo, put it, "those were the colors that were popular when we were kids, you know, in the 70's." Yes, my new glasses are the colors of shag carpeting. My only excuse is that I was suffering from a medical condition when I went to pick them out last Monday morning. I believe the technical term is called "being out of my fucking mind." I think I was convinced that my b00b problems would result in me getting cancer and having to lose my fabulous hair. Oh, and maybe die. (no drama here, huh?) Well, if I was going to lose my hair, I'm thinking that orange and green glasses would look great. On a normal day, not so much. My personal rainbow of colors that I wear are black, dark brown, denim, off white. Orange and Green. The guy at the eye doctor's shop said to give it a day and if I still hate them to come back and he'll order me some nice, sensible coppery brown frames.

On Saturday I was getting a bit stir crazy from being home so much lately so I loaded up the kids and we went out to the Kansas Alpaca Company, this beautiful farm outside of Ottawa, KS for their Farm Day. Here's a few highlights.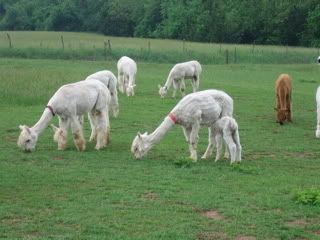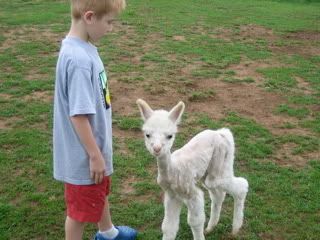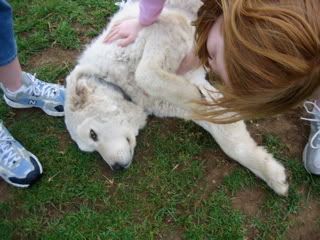 Are you ready to be impressed as hell? OK, so I impressed the hell out of myself anyway. I was working along on Jeff's first sweater (yes, the boyfriend sweater) and it got to the part where I was supposed to do the colorwork mosaic thing. I was going to bring it to my knitting night and have someone show me what to do. I thought, well, I'll just do what the book tells me. Ten minutes later, I had my very first few rows of this amazingly cool actual mosaic crap working on the sweater!!! I just did what it said to do and it freaking WORKED the very first time. So much in knitting is like this. I freak out because something sounds horridly complicated, finally just sit my ass down and when I do it, I'm just like "huh, that was no big deal." How about this? AND IT FITS so far. Top down raglans are the coolest thing ever invented.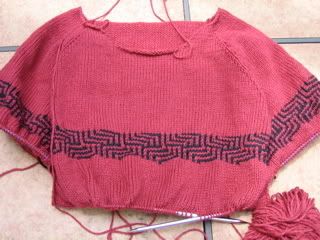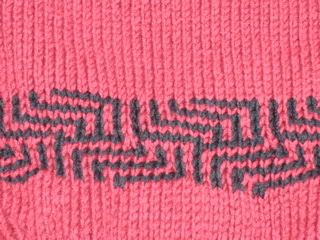 Other stuff on the needles...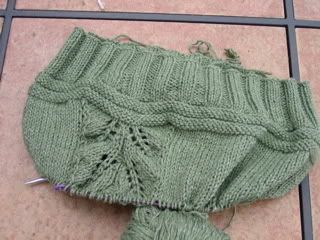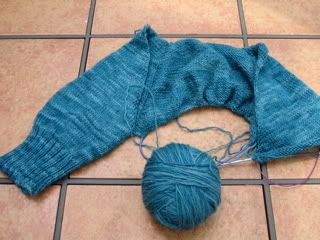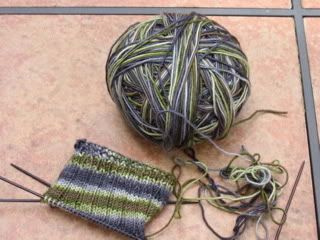 Coquette Lace Tube Top and Two-Tone Ribbed Shrug from Fitted Knits and a pair of socks from my STR sock club monsoon colorway yarn in plain old knit 3 purl 1 pattern which seems to show off the funky colorways so pretty.
Oh and sweet mother of all that is knitterly, I got my invite to
Ravelry
!!! I spent about 4 hours taking pictures of my stash to upload. That's not weird, right? OH OH OH I can't wait to get in there and play! Be patient people, they're opening it up and working to get everyone in. I think this thing is going to revolutionize knitting. As big as
Knitty
.
OK, it's now 2:41am and someone needs to make me stop. I'm turning off the damn computer and putting away the yarn. Ok, not actually putting the yarn away, I'm just shoving the trashbags full of yarn that I was dragging outside for the pics to add to my ravelry account. (yes, Jeff's traveling tonight, so that's why there's bags and bags and BAGS of yarn in every room tonight.