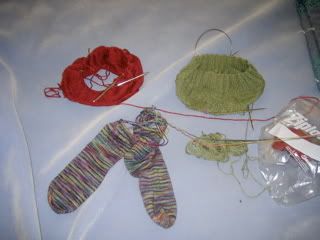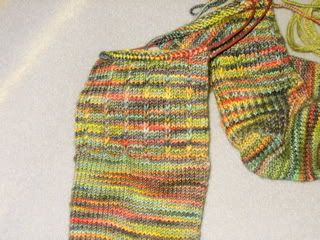 Here's what's going on with my knitting lately. The red is a start on Jeff's mosaic sweater, not too exciting yet, just red. red. red. red. The light green is trying to become its 3rd item. I was creating my own tank top with lace and all kinds of stuff. IN MY HEAD it was gorgeous. On the body not so much. Designer to the stars I am not yet. Now it's becoming the lace paneled tube top from
Fitted Knits
. I do love Stephanie's designs.
The socks are my first pair of toe up 2sox on 2circs experiment. They've now become my single-white-female stalking socks. I'm totally stealing
Gwen's
idea for these because the little slip stitch pattern works so well on the crazy multicolored koigu. I couldn't figure out why Gwen's looked so much prettier and daintier than mine. Then I held mine up and realized, duh, Gwen has dainty little feet and I have giant clodhoppers. OH that's why. Ah well, I'm still liking the look of the socks.
Nothing's really getting done around here knit-wise. Nothing's captivated me enough to kick my crazy fast knitting stuff into gear. I'm just kind of blah. Socks? blah. Sweaters? blah. The chickami that had the funky stripe going in the wrong area is still sitting in the bottom of the drawer waiting in blah-land. blah blah blah.
I went wandering through blogs and my old notes of things I wanted to make back a couple of years ago and stumbled on a few oldies but goodies. I want to make a
ribby cardi
now. I also want to do another
clapotis
. For now, I'm just working a row or two here and there on whichever item I pick up at the time. I think I'll go play in the stash tonight and see if anything jumps out at me. I've spent too much $$ lately to buy MORE YARN for another new project. Anyone totally captivated by something that sounds like me? I'm looking for suggestions.
OH, I was being a good girl and NOT going to the big anniversary sale at
webs
. I avoided it and did not think of it. Much like a solar eclipse, I did not look directly at the site, but then you just can't stand the temptation and you glance, ever so swiftly through your little pinhole box you made in 3rd grade.....it can't really burn your eyeballs out of your head, can it? Well, a quick glance at their site has got me thinking....rationalizing.... I don't need any more yarn. But then I saw it. THEY HAVE CASCADE 220 ON FREAKING SALE!!! And good colors. AND the Cascade 220 Superwash. ON SALE! cripes. Sale ends on the 25th, yarn supplies are declining. I'm trying not to buy any. But, you know, cascade 220 would be the perfect yarn for that ribby cardi and a bunch of projects in the Fitted Knits book actually call for it too. Just sayin'. Nope, I don't need any. nope. not really.
maybe just a little. dammit.