All tests came back good! No cancer and no pre-cancerous cells! Can I get a woo hoo? WOO HOO! I'm finally feeling myself again. I've also determined that happy pills only work for me for ONE DAY. One dose past that, going into a day and a half, is TOO MUCH and we go from happy to really really NOT HAPPY. OH Lordy I was sick, sick, sick. I'm just now getting moving around without having to walk holding my b00b. Good thing I work at home, huh? It's quite the look for a suburban mom. It apparently became a habit, so when I was slowly shuffling along at the farmer's market in downtown OP Wed. morning and not figuring out why I was geting weird looks. OH, yeah, I'm walking along HOLDING MY BREAST. in public. nice. Thanks again for good thoughts & comments & ecards & emails. You guys are the best. I didn't feel like I was all alone wandering around being miserable, I felt like there was this army of friends with me.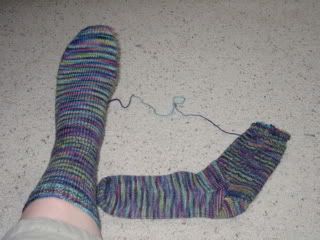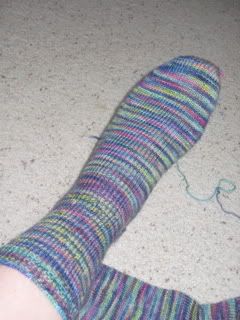 OK, so normal people name their socks, right? Normal sock knitters maybe. Most of mine have normal names, like the sock wars socks I got I call
Sock Wars Socks
. My first STR socks are
Mama's First Socks That Rock Socks
. You get it, not too creative. The sock names help me remember where I was at the time of their creation or what was going on in my life. The boring green socks I just finished for Jeff I call the
Shut-Him-Up Socks
. That should explain itself. Every time he'd see me knitting something he'd ask "who's that for?" and then sigh deeply when I said "me" or charity or for the kids, etc. These socks were knit completely just so he'd SHUT UP about it and leave me to knit selfishly in peace. He did turn around and wear them for 2 days straight to the farm in 85 degree weather, so I'm glad he likes them. I've got lots more to make for him in the future.
Meet
FUCX the Great Outdoors Socks
. (photos above) I apologize for the funky picture and I've not even woven in ends yet, but I was just so happy to have these things DONE! These socks are well named, let me tell you. I was working on them when we went camping and ended up going through a night of torrential rains, lightning and wind storms and running for the hills at the break of what should have been dawn but it was still POURING rain, flooding and lightning, having to pack up while avoiding getting electrocuted. I thought it was a fluke.
I took them along to the lake last weekend. In a nutshell, the boat we were in had the battery die, I had to jump into the COLD AS HELL water along with 3 kids and pull the damn super motor boat WHILE SWIMMING along to keep it from bashing into the rocks in the cove we were stopping at. THEN no one could get it jump started and we were pretty much marooned for 3 hours. Yes, a three-hour tour.....except we didn't have the Professor along to make cool inventions out of coconuts. We just had to pee in the lake water and survive on my bottle of diet coke, 2 half-drunk gatorades and sock yarn. You have to admit, I was quite the resourceful knitter, pulling out my mini sock-yarn bag and needles to entertain myself. In the midst of this fun, both Jeff and I were trying to grab a rope thrown to us from another boat to pull us to a marina and Jeff accidentally popped me in the eye, causing my glasses to fly off and sink 80+ feet to the muddy bottom of the Lake of the Ozarks. No, I didn't bring contacts along for the weekend, so I was blind and had to drive home squinting my ass off (because of course we took 2 vehicles, this couldn't be easy, now could it?) What else? OH I ended up having a shiner start to show up that night too. It was pretty much gone by morning, but I ended up looking like quite the white-trash lake girl when we went out for Mexican food that night. Shiner, flat hair, squinting, no makeup (forgot to bring it) and wearing a tube top (you can do that when you have half-A cup sized girls). We NEVER go out to eat down there, so I was really prepared.
Even with all the craziness, we had a really fun weekend. We had all four kids, they went exploring back in the cove on the paddleboat of a neighbor and swam and caught fish galore. I sat around and knit my ass off, realizing that it wasn't a fluke that both weekends in the great outdoors with these particular socks random acts of destruction seemed to follow me. I don't think the socks themselves are cursed, they behave quite nicely when left inside in the airconditioning away from bugs and ticks and the like. It makes sense, really. I mean they are koigu, so they feel they should be spoiled. I'm good with that. I think I'll take along some crafty in a good way or trekking next time.
A couple shots from when we were ROCKETING across the lake to the cove far, far away from our lakehouse before we were stranded. Anyone notice how my daughter pulls of the lake girl look with grace and I look like white trash on a stale cracker? *sigh* She is a beauty. Even David (Jeff's oldest boy) is sporting some wild hair in the wind due to his current Beatles-like mullet. It works in 60 mph wind.