Picture time! I had left my somewhat cowl over at Jeff's cousin's house on the other side of town and I have been without it for about 2 weeks now, just when it was getting good. I'm cranking away. Isn't it funny how at the beginning of a sweater, it seems to take FOREVER and then all of a sudden it goes into lightning speed? Anyway, here's proof that I do ACTUALLY sometimes put the stitches onto waste yarn and try the damn thing on. The only thing I hate more than taking stitches off the needles onto waste thread is a sweater that doesn't fit. I have finally learned my lesson. The picture is a small cut as I had a REALLY bad hair & face day yesterday as the fan went out on my air conditioner and it was in the upper 90's with about 90% humidity. Not good. Isn't that just the prettiest little seam? I'm still always amazed how that turns out. Yes, the neckline is looking a TAD BIT low, but it's supposed to be as the sorta-cowl thing on the neck pulls it all in. No worries. It's in the yummiest softest baby alpaca from knitpicks. LOVE that stuff!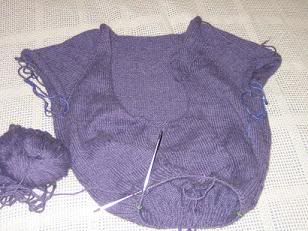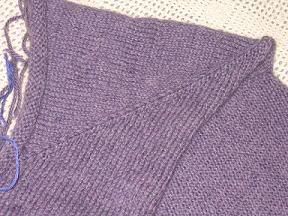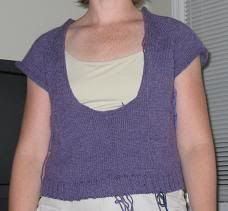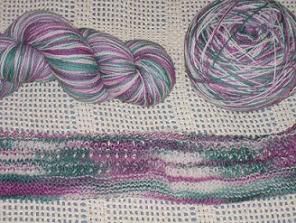 Any resmeblence this picture may show to the Huck Shawl in the Merino Farms book is just a coincidence. I would not have started yet another shawl. No, that would not have made any sense whatsoever. Isn't it pretty yarn though? It's laceweight merino hand-dyed by a lady in our sunflower kntiters' guild.
And because heaven knows this is never a strictly knitting-only blog, here's some gratuitous family shots.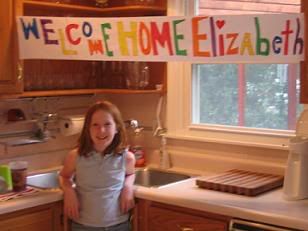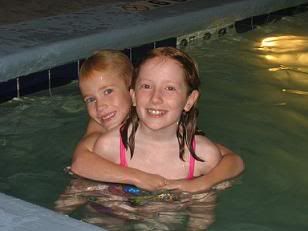 The welcome sign was waiting for us back at home, courtesy of Jeff and his two boys. Very sweet!