OK, so the neckline isn't actually tacked down yet and there are still about 5 ends to weave in, but I'm WEARING this thing and it is amazing!!!! This looks better than the pictures below. I need to either A) get off my lazy ass and FIND OUT HOW TO USE THE DAMN delay button thing, or B) find someone else to take my picture of completed items. Boyfriend is an amazing man. He can build almost anything and is quite the creative person, but does not take the best pics of me in stuff. SO I think I'll just start taking my stuff along to knitting meetings and have other knitters take my pics! GOOD IDEA and it takes less effort that way! WOO HOO!

Until I have a decent pic, here's what I've got.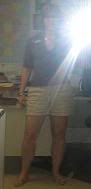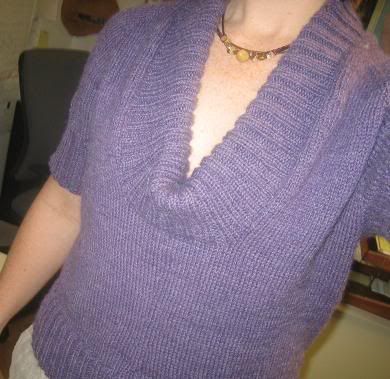 The yarn I used was from Knitpicks, the baby alpaca in some heathery purple and it DOES NOT ITCH, not at all. I've been wearing this around the house now for at least 2 hours and it is absolutely yummy. I'm also quite proud of myself for COMPLETING an item and HAVING IT FIT!!! I do like the low neckline (there is a tiny bit of cleavage, not visible in the pic since us flat girls have to have our arms held "just so" for the shadow to appear and holding my arm out at a strange angle to get the camera to take the pic doesn't do justice to this pretty sweater. Such is life.
Some cool things I found while wandering through everyone else's blogs.....
OH OH OH I found my next item to make...beer can purses and hats!!! I have pictures of my dad wearing one of these puppies, actually it was made into a crocheted orange and brown cowboy hat from budweiser cans. How stylish is that? Stitchy McYarnpants'
beer can alley
. It's a good thing.
Also, for the crocheters out there, Annie's Attic's
free pattern of the day
. You've got to print it out as they replace it each day.
I'm struggling for an idea of what to knit next. I can feel the startitis kicking in. Maybe clapotis for my friend Jill since I promised her a shawl/wrap forever ago. I think that plus a diet coke tote bag and a beer can hat for the lake could be the trick. Better get drinkin'!
And, I've got to say, go see the cake
Vicki
made for her boyfriend. OH Lordy Lordy, what happens when the boy turns forty?