Where have I been? Holy crap it's been a long time since I was blogging.

I've been swatching my ASS off thinking of turning piles of these (click to see them in all their loverliness)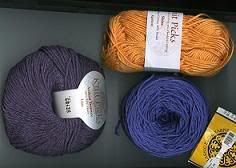 into soleil in the purplish-blue wound ball of Classic Elite Yarns Provence Egyptian cotton, picovoli in the apricot knit picks shine cotton blend, and somewhat cowl in the lavender knit picks baby alpaca. Can we all say "mmmmmmmmmmmmm"? Can I get a woo hoo for startitis? WOO HOO baby. Yes, I'm still working on my panta and a cool traveling rib scarf that was meant to be worn with it, but peoples, I got me some new yarn.

Did I mention I got myself this?????? Denise Interchangeables? Oh lordy, I may never leave the house again. Unless I run out of chocolate (which I haven't yet, thanks to my cousin!) I never got them before as they cost $50. I ended up with a filled card at the Yarn Shop & More (imagine that!) and faced with the idea of buying two more addi turbo circs at $20 a pop, suddenly they seemed quite affordable. OH MY GOD how did I LIVE without these????? LOVERLY!!!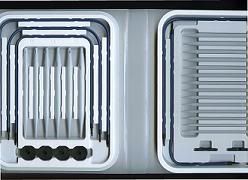 Weekend update...totally enjoyed the time to myself. Friday night was special for Joey and I as my daughter went to a lock-in with girl scouts and had a blast! I was cracking up at her description of the poor moms locked in with them. Apparently those moms were "kind-a cranky for some reason." Being locked in a church basement with 50 girls under 13, up until 2:30am and back awake at 6:00am.... "kind-a cranky" doesn't sound too bad. I'd have been massively psychotic, so I very smartly declined from volunteering. I'm smarter than I look.
Sat night the kids went to my cousins' house for a sleepover and I hit the town. Had a BLAST!!! and was a lame old woman in bed by midnight. Ah well. The best part of the weekend? ***those of you easily nauseated by excessive lovey-dovey stuff, click away now*** Best part of the weekend without a doubt was when my honey came home. Awwwwww. I know, I know. I'm a strong modern woman but there's just something amazing about being held by a man that loves you.
Jeff had been gone since Thurs with some old friends down to Tablerock MO. We stopped by his house before I took my kids to see Ice Age II (loved it) and he came home, took me in his arms, and held me tight, telling me how much he missed me, how much he loved me and kissed the crap out of me, then just held me. I could hear my kids laughing as they played in the backyard, the sun was shining, a fresh breeze blowing through the kitchen and my heart was full. THEN he offered to go to the grocery store for me when we were at the movie, and I just thought that was the sweetest thing I'd ever heard. I just love that Jeff shows his love for me in these simple kind acts he does without even thinking of them. Last weekend, he went out while I was in the shower and drove to the gas station down the road to get me a diet coke to have waiting when I came down to the kitchen. You know, all the crap I put up with in the man department may have just been worth it to make me realize how good life is now.
OK, got to go. Entirely too much warm fuzzy crap for one day. See what happens when I quit blogging? cripes. I'm off to play with my new toys and new yarn.
OH and the amazingly sexy beautiful prarie tank I was making? I CAN do lace, I just can NOT do it when watching a movie. I frogged and reknit and frogged and reknit and decided the damn thing is NOT worth this much effort. I still have some poor deformed thing that resembles a snake coiled around the needles, but it will not be knit by me. nope. not in this lifetime. Hence the startitis.