OK, so here's the picture overload... I did make myself take off the pics of the books I bought too, so count yourselves lucky. You only got half the pics available...

First, here's the lace bottom of my soleil tank. click to see larger view. Notice the lace isn't quite right. I had knit & frogged so many freaking times that by the time I got it figured out, I just didn't care any longer. Where are the beautiful FEW straight lace edges? In front where everyone can see? NO, on my side under my right armpit. Nice.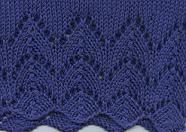 Here's some of the flowers I made in Nicky Epstein's classes. The dark one is actually my fave, but hard to see in the scan I took. I wear it on my denim jacket and it really pops. It's made from two different knit edgings twisted up together and layered and tossed in with the felted stuff. LOVE it! Then there's the cabbage rose with leaf and the VERY VERY cool green one, cut from a felted $2 thrift store sweater. HOW cool is that?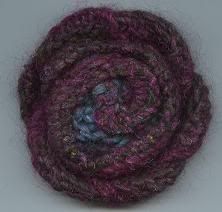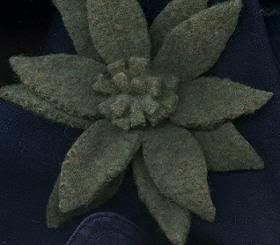 Here's some of what I spent my cash on...Six skeins of the gorgeoso blue koigu destined to be a shawl for my friend....I've got to find a pattern that will only use 5 so I can sneak one for myself. toooooooo soft and tooooooo beautiful! Then I got 2 skeins of the mimosa hand dyed lace yarn from a sweet girl from our guild, and I can't dig out her info yet from the bags and bags and BAGS of crap I came home with. When I find it, I'll post it as I really liked her colors!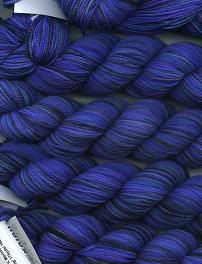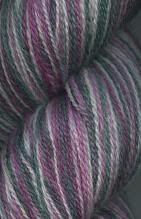 Somehow I reached home with MORE books...somehow. Needled to Death mystery by Maggie Sefton, 2 Nicky Epstein books--Fabulous Felted Bags and Knitted Flowers, The Morehouse Farm Merino Knits book (beautiful), and Shahman's Shawls & Scarves (LACE can you believe it?)
I'm like a junkie, man, I can't get enough!
OK, enough knitting content, this is totally screwing my rambling everything-but-knitting style. Got to go work to earn enough to keep satisfying my yarn cravings!