Well, since I still haven't figured out which box of crap my camera is in, I'm stuck scanning portions of my knitting. I've got about 2 inches past the join on the somewhat cowl, am LOVING this sweater. I'm going to put it onto waste yarn and try it on and hope it fits. It looks good enough when I hold it up to myself. Time will tell.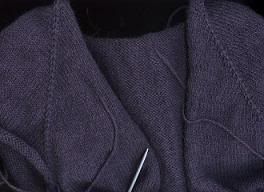 Here's a scan of the COOLEST fun shawl I'm making for my best friend Jill. I'm using KOIGU and loving the heck out of it. I'm using the pattern for the foulard with case pattern from the Morehouse Farm Merino Knits (my new VERY favorite book)and OH MY GOD it's the coolest thing. I'm making one for me too!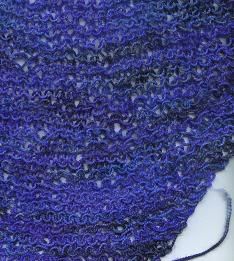 Ok, now for the color. Story provided by my dear friend Russell. Russell went home to his little town in Arkansas last weekend and was talking with his little nephew who goes to preschool. I think the kid's about 4. He got in trouble at school by saying "I'm gonna snap a knot in your butt" to this little boy that was bugging him. (said with a BIG ASS ARKANSAS twang) this is what his grandpa said whenever the boy needed a pop on the butt. He, understandably, got in trouble for saying "butt." So what did he say the next time the kid was bugging him? "I'm gonna kick your ass!" OMG I laughed and laughed. He said "teacher said I couldn't say butt so I didn't." HAH!
PS-->a few more finger crossings please, Jeff's out in NJ interviewing with the big boys for this company that may hire him. He'll get to still live in KC (whew) but will travel about 30-50% of the time. Just think of the frequent flyer miles....Hawaii anyone?