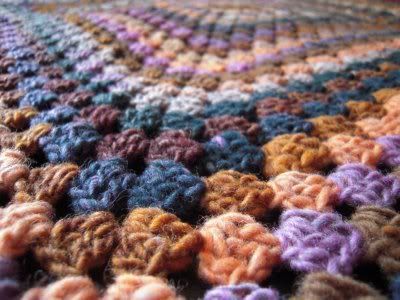 Have you seen Hello Yarn's
fabulous giant granny square noro blanket?
It's fabulous. Made from 10 skeins of noro big kureyon. Well, after seeing her blanket on Friday evening, I got to thinking that I happen to have 9 skeins of regular sized noro kureyon under my bed.... Man, sometimes I wish I had a video camera around as I was totally possessed by this idea. I WOULD crochet my noro RIGHT THEN. It didn't matter that it was WAY WAY WAY in the middle of the floor under our king sized bed. It didn't matter that I'm still wearing my "cone of shame" neck support thing and still move about like the tin man. It didn't matter that there was NO FREAKING ROOM between my dresser and the bed and that I couldn't reach that far when I was feeling normal. Gonna. Knit. Me. A. Noro. Granny Square. If. it. freaking. killed. me. (which it almost did).
Let's just say that half way through trying to get on the floor and in a position that would let me whang around the broom to schwack the space zipper bag of noro my way I lost my balance and fell in a heap with much cursing. Then I got determined. My stupid broom would only schwack it so far, then it got stuck on a support board in the middle of the damn bed. cripes. crawled/dragged myself to the other side and since I couldn't reach the jammed bag from that side either, started finding things to jam one after another under the bed until it could knock the bag loose. Seriously, I spent over 45 minutes getting this damn yarn out from under my freaking bed. There was a little more cursing. ok, there was A LOT more cursing, but I got my yarn out! Woo HOO! (Jeff went to the farm for firewood and the kids were in the "way down" basement, so it was just a battle between me and the yarn.)
After a peaceful Friday evening and Sat am/afternoon I had me some crippled up hands and a new blanket for the couch! Here it is in all its unblocked glory...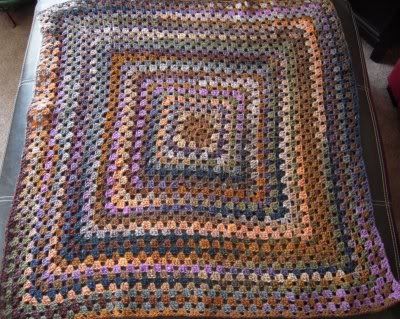 Doesn't that give you the heebie jeebies to look at how off kilter the center is? It actually makes me shiver a bit. Not enough to throw the thing into a bucket to soak, then lay out and block, mind you. Just a shiver. I just have it on the back of the couch with the center over the back and mischief mended. :) I'll block it as noro's not the softest yarn on the planet and I'm guessing it'd grow a bit as well. The thing is pretty small, a bit larger than lap sized after all.
Now for the action shot...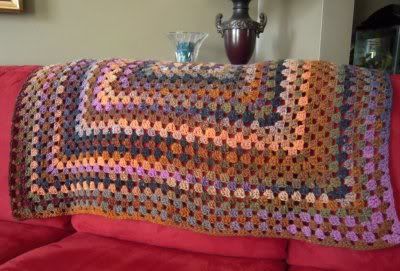 I happen to think it rocks.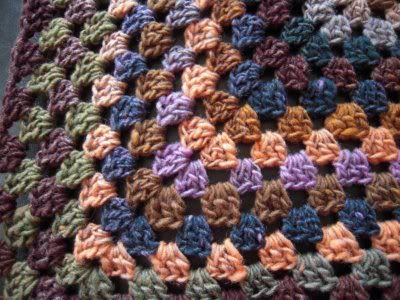 We will return to regularly knit scheduled programming soon....more FO's needing photo shoots...